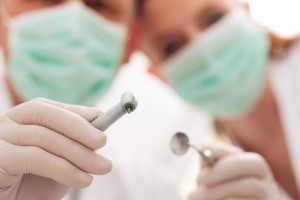 What, more than anything, keeps you from regular dental visits? For some it's the sounds and sensations created by a dental drill. For others it's the shot of anesthetic just about every filling appointment begins with. In both cases, air abrasion can help.
Air abrasion uses a high-powered stream of air and powder, instead of a drill, to remove decay from teeth. What's more, because there's no drilling involved, a shot is often unnecessary. All of which means you can receive the important care you need without two of the most dreaded aspects of dentistry.
Not every cavity can be treated with air abrasion, though; it's intended for small cavities on the chewing surfaces of back teeth. But with regular checkups at Dr. Latner's Los Angeles dental office, it's more likely that any cavities you get can be treated with air abrasion instead of traditional tools.
How long has it been since your last checkup with Dr. Latner and his team at Westside Dental Associates? If it's been more than six months, consider calling us today at (310) 477-1081 to reserve your appointment. At Westside Dental Associates you'll find that Dr. Latner offers a comprehensive selection of services to meet the preventive, cosmetic, and restorative needs of his Los Angeles-area patients.