Orthodontic Treatment – Los Angeles, CA
Creating Healthier, More Attractive Smiles
Quality orthodontic treatment can improve more than just the appearance of your smile — it can benefit your oral health, bolster your self-confidence, and result in a higher quality of life that doesn't include unsightly gaps and noticeably misaligned teeth. Here in Los Angeles, Dr. Les Latner is proud to have moved beyond the scope of traditional braces for his valued patients. While old-fashioned orthodontic treatment is effective, many patients simply can't commit to years of wearing metal brackets and wires because their polished, natural image is so important to them. Our team understands this, which is why we offer more aesthetically pleasing options like Invisalign and the Propel® orthodontic acceleration system. These treatments are subtler and faster on average than traditional orthodontic treatment, and Dr. Latner will be happy to help you determine which one best fits your smile's needs.
Benefits of Orthodontic Treatment
When you decide to commit to orthodontic treatment, you can expect to experience a number of significant benefits:
A cleaner mouth. It's easy for food particles and bacteria to get stuck in the tight spaces between misaligned teeth. When your teeth are all in their proper places, it will become much simpler for you to maintain excellent oral hygiene. You will thus have a lower risk of tooth decay and have fresher breath on a day to day basis.
A lower risk of TMD. TMD, a disorder that affects the jaw joint, can lead to a long list of symptoms, including jaw pain, headaches, and more. Realigning the teeth relieves stress on the jaw joint and thereby lowers your risk of TMD.
Improved confidence. When you look good, you feel good. Getting rid of unsightly dental misalignment has the potential to take your smile — and your confidence — to the next level.
Invisalign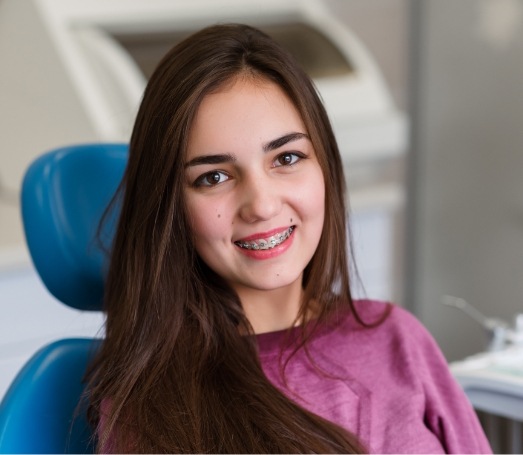 Invisalign in Los Angeles uses a series of clear thermoplastic aligners to apply gentle pressure to the teeth. Over time, the teeth gradually move into their ideal positions. The aligners are custom designed for each patient, which makes the treatment as comfortable and effective as possible. They are also removable, which means Invisalign has no dietary restrictions, and you won't have to navigate around brackets and wires to brush and floss your teeth. Better yet, if you have a special occasion or a photoshoot coming up, you can simply set your aligners aside for an hour or two while you dazzle the camera.
The average treatment time with Invisalign is 12 months, but that varies from patient to patient because individuals have differing orthodontic needs. When you visit Dr. Latner for your consultation, he will design a treatment plan and let you know exactly what you can expect while you are using Invisalign.
Propel
Life moves fast in L.A. Unfortunately, teeth don't move that fast. Thanks to Propel, however, you may be able to achieve results from your orthodontic treatment much more quickly than you imagine. Propel is an orthodontic acceleration technique that is used in conjunction with Invisalign. The treatment works by stimulating the alveolar bone (the bone that supports your teeth). By causing targeted inflammation, Propel encourages your bone metabolism to proceed at a faster rate. Bone metabolism is the process wherein the body breaks down and rebuilds bone tissue. Propel thus encourages your bone to adapt as quickly as possible to the motion of your teeth.
Propel is particularly beneficial for adults, whose bones are much harder than that of children. Hence, grown-up orthodontic treatment typically takes longer. Thanks to Propel, however, you may be able to achieve your dream smile in about half as much time as it would otherwise take.