Invisalign Clear Braces – Los Angeles, CA
Invisible Orthodontic Care
Do you want to have a straighter smile but dread the thought of wearing metal brackets and wires for years of treatment? Well, we at Westside Dental Associates offer a better, more appealing solution to get you the results you're looking for—Invisalign. With this advanced, efficient orthodontic treatment, those around you will barely notice your clear braces. You can maintain your appearance and your confidence as you make progress toward your perfectly aligned smile.
How do I know if I need Invisalign?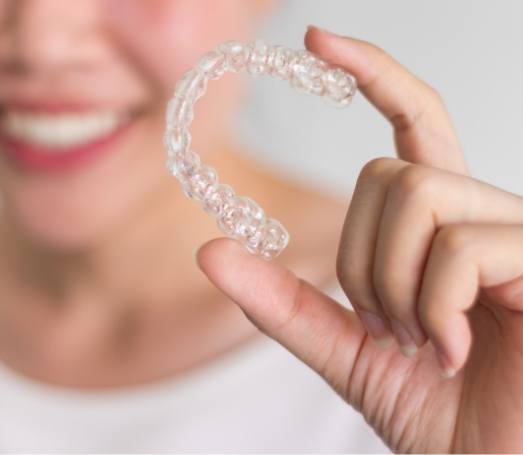 If you have any of the following, you could be a good candidate for Invisalign:
Crowded teeth. Cleaning all the nooks and crannies of crowded teeth can be difficult, increasing your chances of developing tooth decay and gum disease.
Gaps between teeth. Too much space between teeth can allow food to become stuck and cause bad breath and decay.
Overbite, underbite, or crossbite. These problems can place excess pressure on your jaw, cause clenching or grinding, and wear down your teeth's enamel over time.
It's important to keep in mind that if your alignment issues are severe, Invisalign may not be the best choice for you. Ultimately, you'll need to have a consultation with Dr. Latner at our Los Angeles office to know for sure and to get started with treatment.
How does Invisalign work?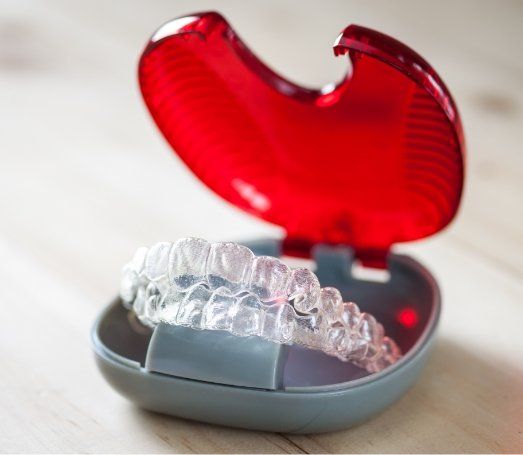 Instead of brackets and wires that force your teeth into position, Invisalign's effective system uses comfortable, custom-made plastic trays to gently guide your teeth into the desired alignment. Once Dr. Latner has created a personalized treatment plan and your trays arrive, you wear them for 20 to 22 hours every day, taking them out only for eating and cleaning. After about two weeks, you switch to the next set, bringing you one step closer to the final results. Every couple of months, you need to come into our office for a quick appointment so that Dr. Latner can ensure that you're progressing properly and make any necessary adjustments to your treatment plan.
What are the benefits of Invisalign?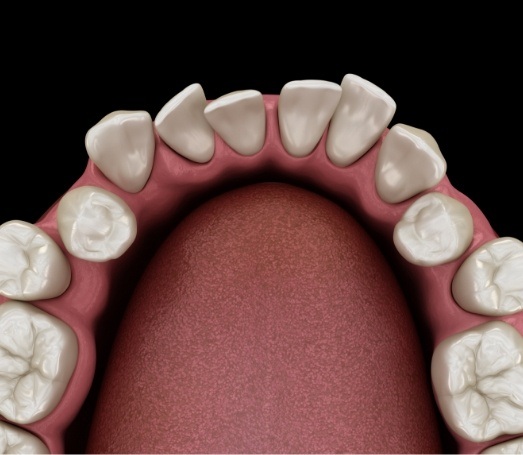 In addition to allowing for a better appearance and improved confidence, Invisalign offers many advantages to traditional braces, including the following:
Faster Results
While traditional braces can take between 24 and 36 months to complete treatment, Invisalign typically last only up to 18 months. Plus, Invisalign requires fewer, less frequent adjustment appointments, giving you more time for your busy life.
No Food Restrictions
Traditional braces entail a long list of foods that you need to avoid during treatment, including gum, popcorn, chewy foods and candy, and more. In contrast, Invisalign aligners are removeable, enabling you to eat all your favorite foods without worrying about sabotaging your treatment. Just be sure to brush and floss after eating and before putting your trays back in.
Easier Oral Care
As you might imagine, trying to brush and floss around the bulky brackets and wires can be challenging. With Invisalign, you simply remove the trays and brush and floss your teeth like normal. Also, maintaining your aligners is straightforward, requiring that you gently brush them daily.
Affordable Price
In many cases, Invisalign costs about the same as traditional braces, and many dental insurances cover part of Invisalign treatment. Our team can work with you to understand and maximize your benefits and make this option affordable within any budget.
To learn more about it or to get started with Invisalign, contact our office to schedule a consultation. We look forward to helping you achieve your smile goals!
What are malocclusions?
Overbites, underbites, and crossbites are different types of malocclusions. Your occlusion is how your teeth fit together. When your occlusion is right, your top teeth and bottom teeth fit together perfectly. Malocclusions are instances where the teeth do not fit together properly, and Invisalign can help change your bite for balance. An overbite is defined as the upper teeth coming forward and closing in front of the bottom teeth. An underbite is defined as the lower teeth closing in front of the upper teeth. A crossbite is defined as the side teeth not meeting properly, with either the upper or lower set falling inside of the opposing teeth.
Malocclusions can contribute to a number of problems, and not just the cosmetic kind. When your bite is improper, it can cause TMJ dysfunction over time and lead to dental wear. With Invisalign, we can fix not only crooked teeth that make you uncomfortable with your smile, but your malocclusions as well, giving you great TMJ function.
More about Invisalign
Dr. Latner was one of the first general dentists to offer Invisalign, and he has personally witnessed patients experiencing increased confidence and success after treatment. FDA-approved Invisalign clear braces are the "invisible" solution to straighten teeth without conventional metal braces. Invisalign uses a series of clear, removable, and custom-made aligners to gently move teeth into their ideal position.
Because you can remove your Invisalign aligners before you eat and drink, there are no food restrictions or problems with flossing or brushing. Invisalign aligners are made of comfortable, clear acrylic, which means they don't cause mouth abrasions common with the metal and wires of conventional braces. Adjustment visits aren't required, either. You'll spend less time at Dr. Latner's Los Angeles office and more time enjoying life.
To create Invisalign aligners, Dr. Latner relies on 3D computer imaging to design a complete treatment plan, from the initial teeth alignment to the final, desired positioning. You can even preview your potential smile before beginning Invisalign treatment. Displeased with your smile because of misalignments, malocclusion, or even just slightly crooked teeth? You don't have to be! You can be proud of your smile with Invisalign treatment from Los Angeles dentist Dr. Les Latner.