Dental Implants in Los Angeles, CA
Invest in a Complete Smile Today!
If you have lost teeth over the years, you have likely tried traditional treatments to fill the empty spaces in your smile, like a bridge and crowns. Although you had high hopes, you did not achieve the results you wanted. Now, you can enjoy the next best thing to your real teeth with dental implants in Los Angeles. Dr. Les Latner will help you invest in your oral health and your quality of life using a solution that can last for several decades.
Benefits of Dental Implants
You now have multiple options to treat tooth loss, but only one replaces both the root and the crown. A titanium implant post is surgically placed into your jawbone to mimic a new root. This provides a secure foundation for your restoration. This method and the materials used allow you to enjoy several benefits not possible with traditional dental prosthetics, including:

Over a 95% 10-year success rate.
Natural-looking results using all-ceramic material.
Feels natural by eliminating slipping or irritation.
Regain as much as 70% of your biting force.
Does not alter healthy teeth.
Preserves your jawbone's density to improve your oral health.
Protects your facial structures.
Long-term, cost-effective treatment.
Indications for Dental Implants
Contrary to common belief, dental implants can treat all cases of tooth loss if you are a candidate for the treatment. Your dentist in Los Angeles, Dr. Latner creates a personalized treatment plan to replace your missing teeth. The process varies slightly depending on how many teeth you are replacing.
Missing Single Tooth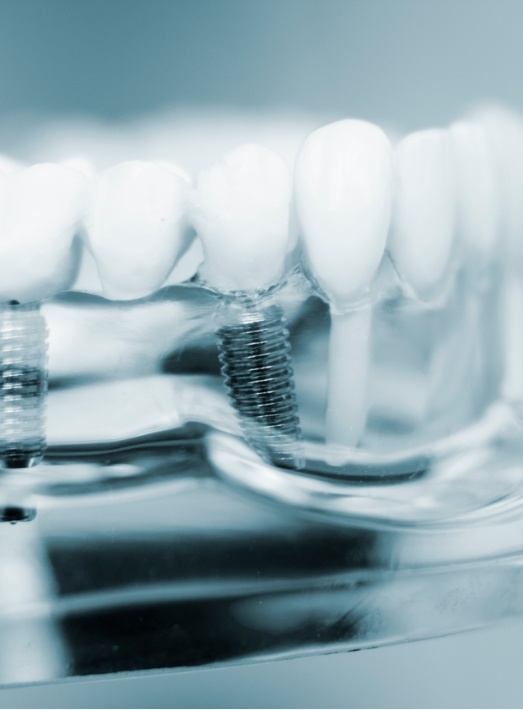 A single missing tooth is replaced using an implant post, an abutment, and a dental crown. This eliminates the need for a traditional bridge and crown.
Missing Multiple Teeth
Several consecutive missing teeth can be replaced using an implant-retained bridge. The prosthetic teeth are designed from an impression of your mouth. It is held in place using an implant post at either end to secure it to your jawbone.
Missing All Teeth
You can skip the hassle of an adhesive and hold your denture in place using an average of 4 implant posts. You will never need to worry about slipping or irritation again while enjoying a solution that can last for several decades.
Understanding the Cost of Dental Implants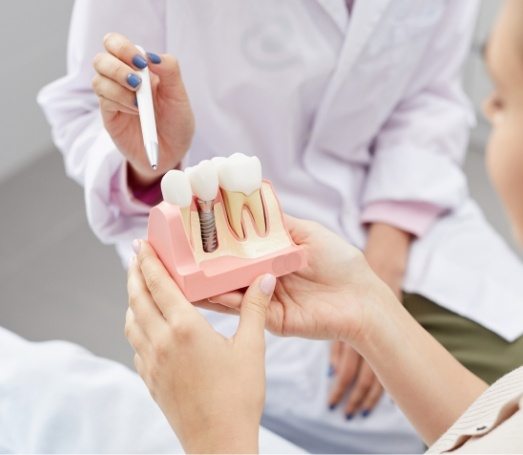 It is no secret dental implants can be expensive, but they are more cost-effective long-term. The amount you pay is based on your individual treatment plan. There are several factors that influence the cost, such as the number of teeth being treated, additional procedures, and your dental coverage. Although your insurance will not pay for the entire treatment, it can help lower certain aspects, such as the restorations. We help you maximize the value of your policy to reduce the amount you need to pay.
During your initial consultation, we provide you with an estimate and discuss your payment options, such as CareCredit. We will help you find the best solution to keep your new smile affordable.
Schedule an Appointment
If you are ready to invest in your smile, do not wait. Contact our office today to see if dental implants are right for you.
Dental Implants Frequently Asked Questions
Do you have more questions about dental implants in Los Angeles? Don't worry, we are here for you! Our expert team at Westside Dental Associates has compiled some of the most common questions – and answers – about dental implants below. Everything from the history of dental implants to how long it takes for implants to fully heal is covered in this handy FAQ section.
If you still have questions or concerns after reading the information below, do not hesitate to contact us online or call the office to schedule an initial consultation with Dr. Latner.
How Long Do Dental Implants Take to Heal?
In general, dental implants fully heal and fuse with the surrounding jawbone in approximately 4 to 6 months. However, the length of recovery following the implant placement procedure can vary depending on a variety of factors, including the density of the patient's jawbone and the number of implants inserted into the jaw.
How Long Do Dental Implants Last?
Are you searching for a long-term solution for the gap in your smile? With proper care, dental implants can last for decades – perhaps even the rest of your life! Indeed, dental implants from a dentist in Los Angeles are easily the longest-lasting tooth replacement solution available today. Once you have successfully undergone implant treatment, you will likely just need to periodically replace the crown or other implant-supported prosthetic – typically every 5 to 15 years.
Here are 3 easy tips for preserving your dental implants:
Brush twice a day for a full two minutes each time
Floss daily
Visit Westside Dental Associates twice a year for a dental exam and cleaning
Can I Smoke with Dental Implants?
While it is possible to undergo implant treatment if you habitually smoke tobacco, the risk of implant failure is much higher than usual. Indeed, multiple studies have shown that smokers can have a dental implant failure as high as 20 percent – significantly higher the national average.
Why is smoking so bad for dental implants? The nicotine in tobacco reduces blood flow, which can slow the rate at which your body heals after surgery. The healing process, in which the dental implant fuses with the surrounding jawbone, is a critical part of the dental implant process. Failure of the implant to fully fuse with the bone is likely to lead to implant failure.
Will My Insurance Pay for Implants?
While every plan varies, many dental insurance plans do not cover the full cost of dental implant treatment. However, you may be able to take advantage of your insurance benefits for certain related costs, such as the dental crown, sedation or tooth extractions. If you would like assistance navigating the particulars of your insurance plan, do not hesitate to contact our expert team!
How Long Have Dental Implants Been Around?
Dentists began successfully experimenting with titanium dental implants after an orthopedic surgeon discovered the metal's biocompatible properties in the early 1950's. Modern dental implants really took off in the 1970's and are today considered the most effective and reliable tooth replacement solution available.
What's really interesting, however, is the fact that primitive dental implants were used all the way back in ancient China! Archeologists believe carved bamboo pegs unearthed in China were used as dental implants beginning in 2000 BC. Sounds painful!