Dental Implants – Los Angeles, CA
Invest in a Complete Smile Today!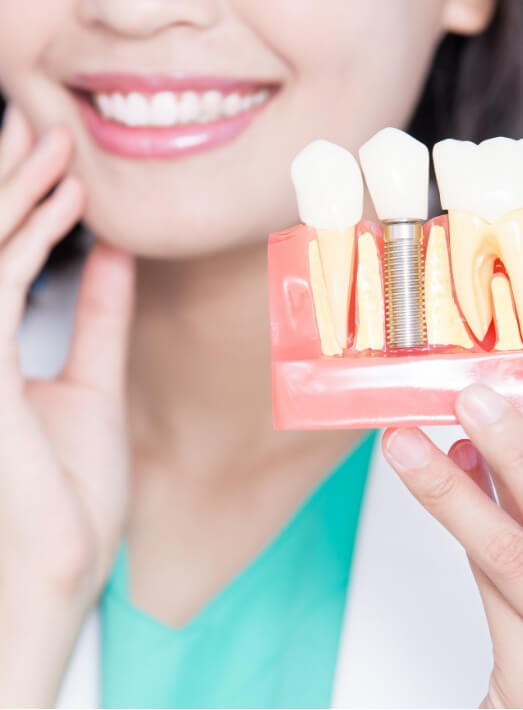 If you have lost teeth over the years, you have likely tried traditional treatments to fill the empty spaces in your smile, like dental bridges or dentures. Although you had high hopes, you did not achieve the results you wanted. Now, you can enjoy the next best thing to your real teeth with dental implants in Los Angeles. Dr. Les Latner will help you invest in your oral health and your quality of life using a solution that can last for several decades. If you are ready to invest in your smile, do not wait. Contact our dental office today to see if dental implants are right for you!
Why Choose Westside Dental Associates for Dental Implants?
Dentist With More Than 30 Years of Experience
Compassionate and Personalized Approach From Dental Team
Dental Insurance Welcome & In-House Savings Plan
What Are Dental Implants?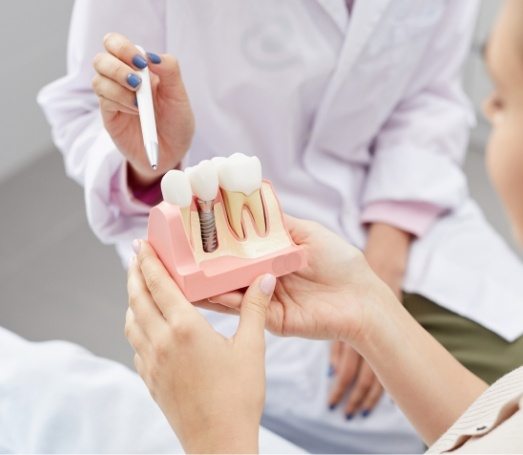 A dental implant is composed of three parts. This includes the titanium implant itself, the abutment that connects the restoration to the implant, and the restoration (a crown, bridge, or denture) that inevitably sits on top. To place the implant, a small incision is made in the gum tissue and the implant is inserted inside the jaw. After the implant is placed, we give it plenty of time to heal, usually about four to six months. Once it's fully fused, you can have the abutment component placed and give the gum tissue time to heal around it. Once all is said and done, the restoration is placed on top. This crown, bridge, or denture is customized to keep your bite even, last for many years, and look incredibly natural while doing so.
Because dental implants are the only tooth replacement method to rebuild the entire structure of the tooth beneath the gums, they are often considered the gold standard for replacing lost teeth.
The 4-Step Dental Implant Process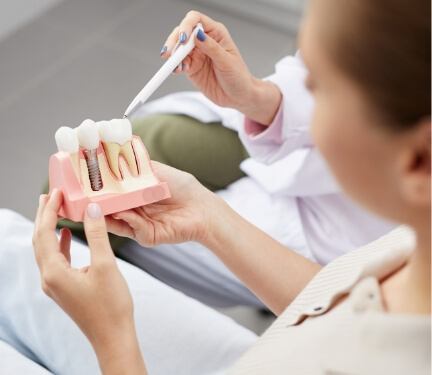 Providing maximum support, a natural appearance, and long-lasting results, it is no wonder that dental implants in Los Angeles are one of the most popular tooth replacement solutions available today.
But what exactly is involved in the dental implant treatment process? If you are considering filling the gaps in your smile with dental implants but want to know more about the procedure, you have come to the right place. Our knowledgeable team provides a step-by-step breakdown of the smile restoration journey below.
Read More Read Less
Initial Dental Implant Consultation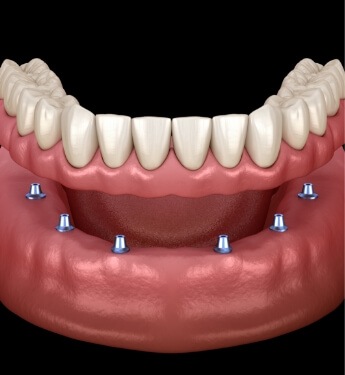 The journey to your new, restored smile begins when you step through the doors at Westside Dental Associates for an initial dental implant consultation with Dr. Les Latner. During this first visit, Dr. Latner will talk with you about your unique smile goals, habits, and overall oral health. If you have any questions about the dental implant treatment process, now is the perfect time to ask!
After evaluating your case, Dr. Latner will decide whether dental implants are the best tooth replacement solution for you. If they are, there may be some preliminary steps that need to be completed before beginning implant treatment. For example, some patients with weak jawbones must first get a bone graft to support dental implants.
If you do not need a bone graft or other preliminary treatment, you can proceed straight to the next step in the dental implant process.
Dental Implant Surgery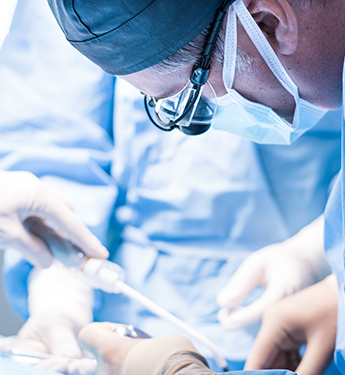 Placing a dental implant can be completed with just a single, minimally invasive procedure performed by an experienced dentist in Los Angeles.
First, your gums will be opened, and the implant post will be inserted. Once the implant is placed, your gums will be sewn back up and the healing process will begin.
Thanks to dental sedation and local anesthetic, we can assure that you will be completely comfortable throughout the entire placement procedure.
Dental Implant Osseointegration/Abutment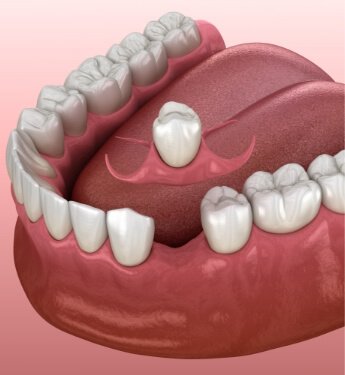 Dental implants are typically made from titanium, an incredibly strong metal. Because titanium is also biocompatible, it can fuse with the surrounding jawbone without the body rejecting it. This process, known as osseointegration, is an important part of dental implant treatment. A strong bond between the implant and your jawbone will develop over several months and will provide maximum support for your new teeth.
After your implants and jawbone have successfully fused, Dr. Latner will place abutments on top of the implants. Abutments are small connector pieces that enable a crown, bridge, or denture to attach to an implant.
Delivery of Dental Implant Restorations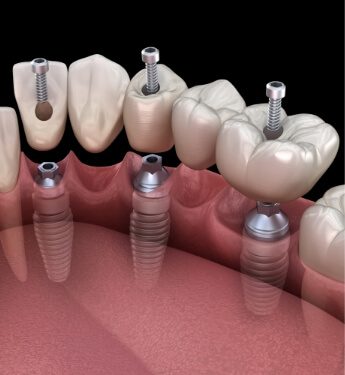 After your implant has fully healed, we will welcome you back to our office for the final step – getting your new teeth! Dr. Latner will first check to make sure that your custom-made dental prosthesis will provide you with a comfortable, well-aligned bite as well as blend in appearance-wise with the rest of your smile. He will then attach the new crown, bridge, or denture to your implant(s) via the abutment. Once your new teeth are in place, you can immediately continue with your day and begin showing off your newly restored smile!
Benefits of Dental Implants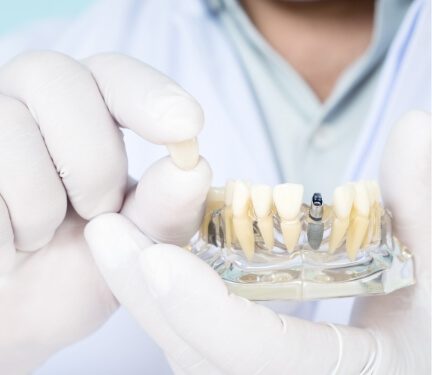 These days, you have multiple options to treat tooth loss, but dental implants in Los Angeles are the only ones to replace the root as well as the crown. This gives them not only the versatility to restore any number of missing teeth, but a level of longevity and stability that traditional prosthetics cannot deliver. Here are just a few of the reasons why dental implants are considered the gold standard of tooth replacement.
Read More Read Less
Day-to-Day Benefits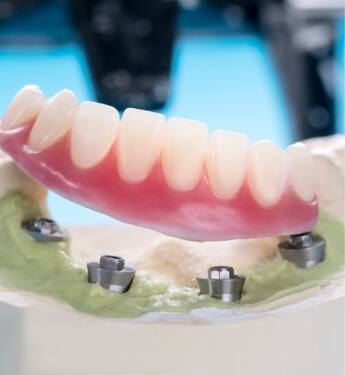 Recent research suggests that about one-third of denture wearers feel that their prosthetic prevents them from being able to enjoy life to the fullest. If you're part of that statistic, then the following benefits of dental implants in Los Angeles might be a complete game-changer:
The power to eat a varied diet – Because dental implants bring back the entire structure of lost teeth, they're much more secure and reliable than traditional dentures and dental bridges. They restore almost all of the chewing force you had before tooth loss, allowing you to eat practically any food.
Clear speech – Dentures, especially those that don't fit properly, are known to shift around or even fall out of the mouth. With dental implants, you can trust that your teeth will remain firmly in place at all times.
A confident smile – The restorations that go on top of your implants are carefully designed to complement your facial features. They should resemble your natural pearly whites almost perfectly.
Easy maintenance – In many ways, caring for dental implants is similar to that of real teeth – no complex cleaning regimen is required!
Health Benefits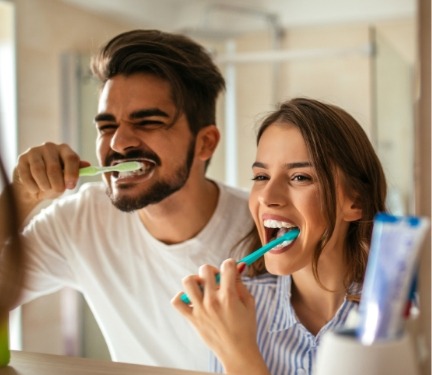 Beyond improving your daily quality of life, dental implants also offer various health benefits:
Preservation of your natural teeth – After a tooth is lost, the teeth on either side of it eventually drift out of place. Dental implants fill the gap to keep all of your teeth in place. Additionally, implants can support themselves, meaning that an implant dentist in Los Angeles doesn't have to reshape any of your remaining teeth like they would to place a dental bridge.
Jawbone stimulation – Just like the roots of natural teeth, dental implants stimulate your jawbone every time you bite and chew. This prevents the bone deterioration that commonly occurs after tooth loss. Not only does this improve your oral health, but it helps you maintain a youthful appearance for years to come.
Better systemic health – Studies point to a correlation between tooth loss and an increased risk of various diseases, including heart attack, stroke, and diabetes. Because dental implants fill all of the functions of real teeth, it's reasonable to assume that they also reduce these risks.
Long-Term Benefits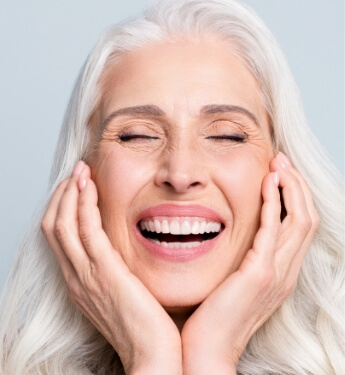 Provided you take good care of them, dental implants can potentially last for the rest of your life. In fact, they boast an impressive success rate of 90% to 95%, even after more than a decade. Traditional prosthetics have to be replaced every five to 10 years, compounding on their lower, upfront cost. Plus, you won't have to constantly buy special adhesives or cleaning products. Overall, dental implants are the most cost-effective tooth replacement in the long run.
Who Dental Implants Can Help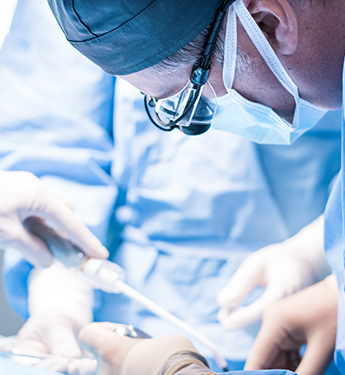 Contrary to common belief, dental implants can treat all cases of tooth loss if you are a candidate for the treatment. Your dental implant dentist in Los Angeles, Dr. Latner, creates a personalized treatment plan to replace your missing teeth. The process varies slightly depending on how many teeth you are replacing, but if you are an adult with good general oral and overall health, you can expect to enjoy the many great benefits that are only achievable with this versatile, permanent tooth replacement solution. To find out if you are a qualified candidate, continue reading to learn more.
Read More Read Less
Who Is a Good Candidate for Dental Implants?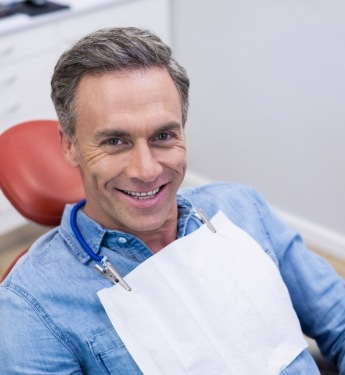 Almost any adult can receive dental implants in Los Angeles. Even if you do not believe you will qualify for treatment, it is best to let our team review your medical history and examine your oral cavity to determine if you can immediately start treatment or if you require preliminary services first. No matter the solution, you can trust that we will use the following factors to make our decision:
Oral Health: If you have signs of severe tooth decay or gum disease, it will be necessary to undergo a tooth extraction or periodontal therapy before beginning with dental implant placement.
Overall Health: If you are healthy enough to undergo minor oral surgery, you will be given the green light to move forward. Otherwise, if you have an autoimmune disorder or condition that weakens your immune system, you may be required to talk to your physician about ways to better manage your health.
Jawbone Density: If you have enough bone to support your implants and restoration, you'll be free to continue with treatment. However, if areas of the jawbone are less dense, you may need a bone graft to build up the area and create a solid foundation for your new smile.
Dental implants in Los Angeles are an extremely versatile tooth replacement option. They are capable of treating all types of tooth loss, including:
Missing One Tooth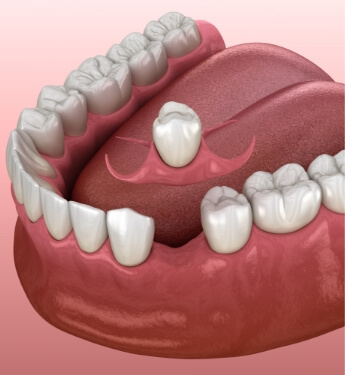 A single implant post and customized dental crown can work to replace a single missing tooth. Blending in seamlessly upon placement, it will be virtually impossible for anyone to tell the difference between your real and artificial teeth. As a sturdier and longer-lasting solution (than if you were to receive a dental bridge), a single implant post doesn't require the removal of healthy tooth enamel from nearby, adjacent teeth, which can cause them to weaken over time and become sensitive.
Missing Multiple Teeth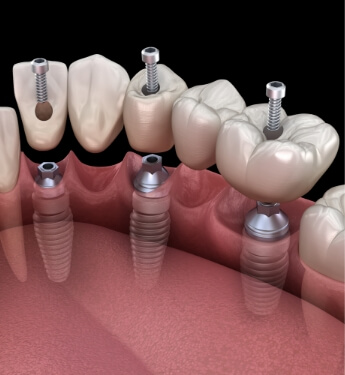 If you suffer from multiple, consecutive missing teeth along an arch, we can place two dental implants into the outer sockets to support a customized dental bridge that will help to fill in the gap. Unlike a fixed bridge that relies on healthy teeth to serve as anchors, your implants will do all the work, leaving your natural teeth alone. If you have multiple, nonconsecutive missing teeth, we can also prepare an implant partial that will fit into place just like a puzzle piece.
Missing All Teeth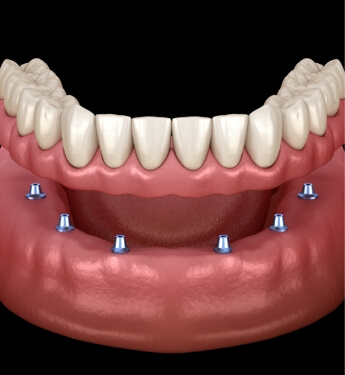 If all your teeth are missing along the upper or lower arch, an implant denture can be created and put into place. Using between four and eight implant posts that are strategically placed to support a full denture, you can watch as your smile suddenly reappears. Because of the surgical placement within the jawbone, you will not need to worry about slippage or a loose-fitting denture that accidentally falls out while eating or speaking.
Learn More About Implant Dentures
Missing All Teeth with Low Jawbone Density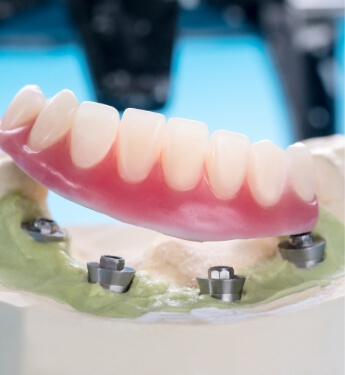 Also, it may be possible that you are a candidate for All-On-4 dental implants. For individuals with inadequate jawbone density, this solution makes it possible to receive 4 dental implants without the additional need for bone grafting.
Understanding the Cost of Dental Implants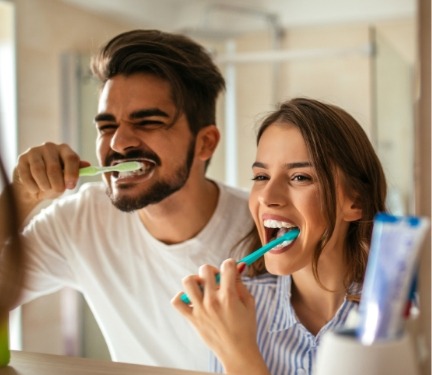 It is no secret dental implants can be expensive, but they are more cost-effective in the long run. The amount you pay is based on your individual treatment plan. Several factors influence the cost, such as the number of teeth being treated, additional procedures, and dental coverage. Although your insurance will not pay for the entire treatment, it can help lower certain aspects, such as restorations. We help you maximize the value of your policy to reduce the amount you need to pay.
Read More Read Less
Preliminary Treatments & Dental Implant Surgery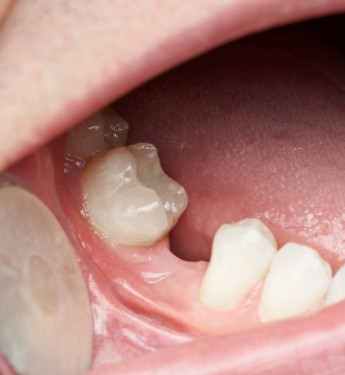 Certain preliminary procedures, including gum disease treatment or tooth extractions, will increase the cost of your treatment if needed. Additionally, surgery creates its own cost and can be lower or higher depending on how many implants are placed. As an office that teams up with local experts to perform the surgical portion of treatment, their fees will be unique from the restoration used to cover the implant. During your consultation, Dr. Latner will discuss the details of your procedure with you and lay out a personalized cost estimate. This way, you're never surprised by your dental costs.
The Parts of Your Dental Implant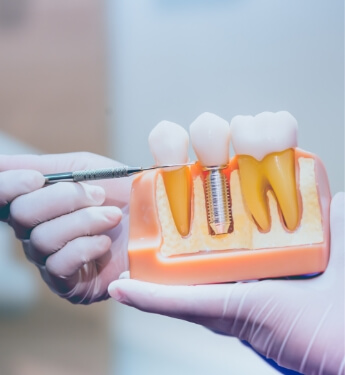 One of the main factors that affect dental implant cost is the exact nature of your treatment. For example, a single implant post topped with a dental crown will cost significantly less than a full denture that is supported by four to six implants. There are also different materials that implants can be made from, as well as a variety of placement techniques. Our team and the dentists we partner with will always be transparent about the materials they use and where they get them from, so you can have confidence in your future tooth replacement.
Final Dental Implant Restoration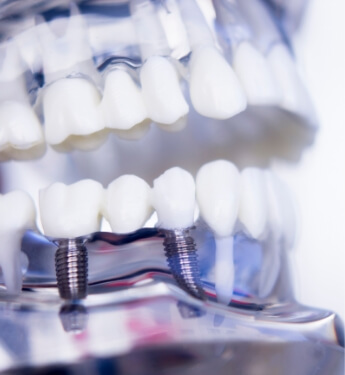 The more complex your restoration is, the more it will cost to design, fabricate, and attach to your dental implant(s). Since dental implants are so versatile, they can accommodate a wide variety of restorations. This includes dental crowns, bridges, and full or partial dentures. Keep in mind that your restoration is created with natural-looking materials to ensure the best esthetics possible, including dental ceramic and acrylic.
Does My Dental Insurance Cover Dental Implants?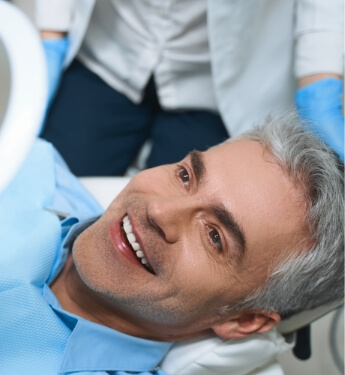 Dental insurance companies didn't use to cover implants because they considered them to be purely cosmetic. However, more and more insurance policies are beginning to cover the cost of dental implants in Los Angeles, at least partially. If they won't pay for the implants themselves, they may reduce your out-of-pocket costs for another part of the treatment, such as preparatory work or the restoration. At Westside Dental Associates, we'll happily maximize benefits for all major dental insurance plans.
Making Dental Implants Affordable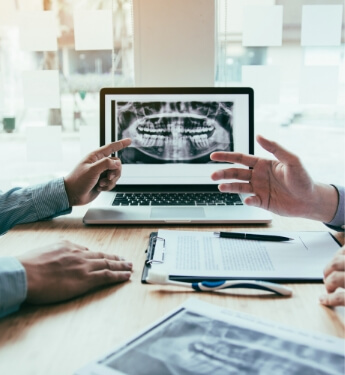 While dental insurance doesn't typically cover the cost of dental implants, you won't have to pay for the entirety of your new teeth all at once. The dental implant process requires several different procedures that are spaced out over several months. That way, you can break up the cost of dental implants into manageable portions. This also makes care more affordable if you don't have dental insurance at all.
For example, our Financial Affairs Counselor is happy to discuss third-party financing with you. Through this option, you can pay for your treatment in monthly installments with little to no interest attached! Additionally, our in-house savings plan provides you with 20% off all other treatments performed in the office immediately when you sign up!
Maintaining & Caring for Your Dental Implants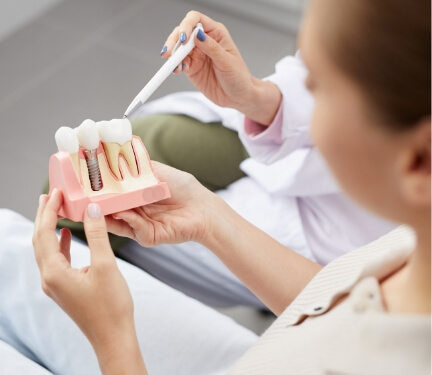 Dental implants can last for over three decades or even the rest of your life. However, it's essential that you take all the proper steps to care for them. If you aren't taking the time to protect your dental implants from becoming damaged, they could end up failing and needing to be replaced. The good news is that with just a few simple precautions, you can keep your implants healthy and enjoy their benefits for many years down the road.
Read More Read Less
Make Oral Hygiene a Priority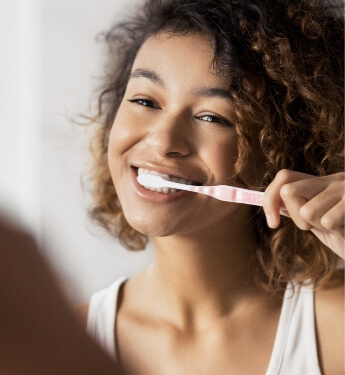 Dental implants can't get cavities themselves, but you still need to practice excellent oral hygiene. In addition to keeping your surrounding teeth in good shape, sticking to a great hygiene routine can prevent other dental problems, like gum disease, which can cause your implants to fail. Remember to brush, floss, and rinse with mouthwash each day.
Eat a Healthy Diet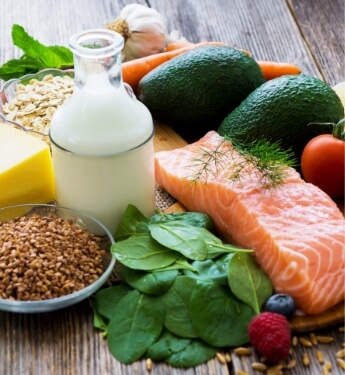 One of the numerous benefits you can experience from dental implants is that you don't have any eating restrictions. You can easily enjoy a nutritious meal without struggling to chew. Just remember that having too many items that are hard, sticky, or sugary, can be problematic. Remember to eat foods that contain plenty of calcium and vitamin C to keep your jawbone and gums in good health.
Break Bad Habits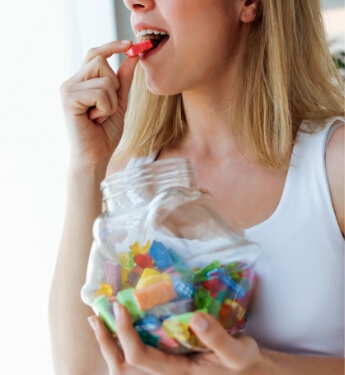 Bad habits can cause your dental implants to fail over time. Refrain from smoking or using tobacco products immediately after your procedure, as they can slow down healing and increase your risk of developing an infection. Don't use your teeth as tools either. You could accidentally end up damaging your dental implant or a surrounding tooth. Instead find scissors, a bottle opener, or another tool that can help you complete your task without risking your smile.
Protect Your Dental Implants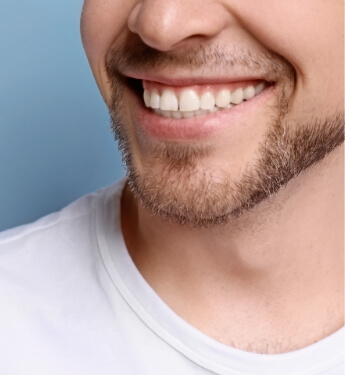 As strong as your dental implants are, they aren't completely indestructible. Always wear a mouthguard to protect your dental implants and natural teeth when participating in sports. If you grind your teeth at night, ask about a nightguard to protect your implants from additional wear and tear.
Schedule Regular Dental Checkups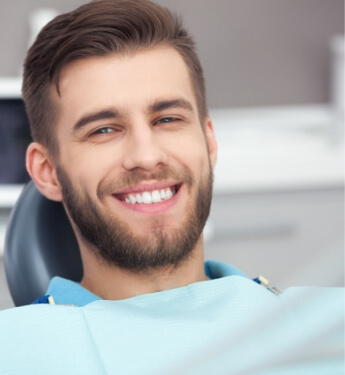 You should always attend your regular teeth cleanings and dental checkups every six months. This way, we can monitor your dental implants and spot any issues as early as possible. By catching potential problems now, you can prevent them from becoming more serious and leading to greater consequences, like a failed dental implant.
Dental Implant FAQs
Do you have more questions about dental implants in Los Angeles? Don't worry, we are here for you! Our expert team at Westside Dental Associates has compiled some of the most common questions – and answers – about dental implants below. If you still have questions or concerns after reading the information below, do not hesitate to contact us online or call the office to schedule an initial consultation with Dr. Latner.
How Long Do Dental Implants Take to Heal?
In general, dental implants fully heal and fuse with the surrounding jawbone in approximately four to six months. However, the length of recovery following the implant placement procedure can vary depending on a variety of factors, including the density of the patient's jawbone and the number of implants inserted into the jaw.
How Long Do Dental Implants Last?
Are you searching for a long-term solution to the gap in your smile? With proper care, dental implants can last for decades – perhaps even the rest of your life! Indeed, dental implants are easily the longest-lasting tooth replacement solution available today. Once you have successfully undergone implant treatment, you will likely just need to periodically replace the crown or other implant-supported prosthetic – typically every 5 to 15 years.
Here are three easy tips for preserving your dental implants:
Brush twice a day for a full two minutes each time
Floss daily
Visit Westside Dental Associates twice a year for a dental exam and cleaning
Can I Smoke with Dental Implants?
While it is possible to undergo implant treatment if you habitually smoke tobacco, the risk of implant failure is much higher than usual. Indeed, multiple studies have shown that smokers can have dental implant failure as high as 20 percent – significantly higher than the national average.
Why is smoking so bad for dental implants? The nicotine in tobacco reduces blood flow, which can slow the rate at which your body heals after surgery. The healing process, in which the dental implant fuses with the surrounding jawbone, is a critical part of the dental implant process. Failure of the implant to fully fuse with the bone is likely to lead to implant failure.
How Long Have Dental Implants Been Around?
Dentists began successfully experimenting with titanium dental implants after an orthopedic surgeon discovered the metal's biocompatible properties in the early 1950s. Modern dental implants really took off in the 1970s and are today, considered the most effective and reliable tooth replacement solution available.
What's interesting, however, is the fact that primitive dental implants were used back in ancient China! Archeologists believe carved bamboo pegs unearthed in China were used as dental implants beginning in 2000 BC. Sounds painful!
Have Questions? Get Answers.