Teeth Whitening – Los Angeles, CA
Achieve Your Brighter Smile with Professional Solutions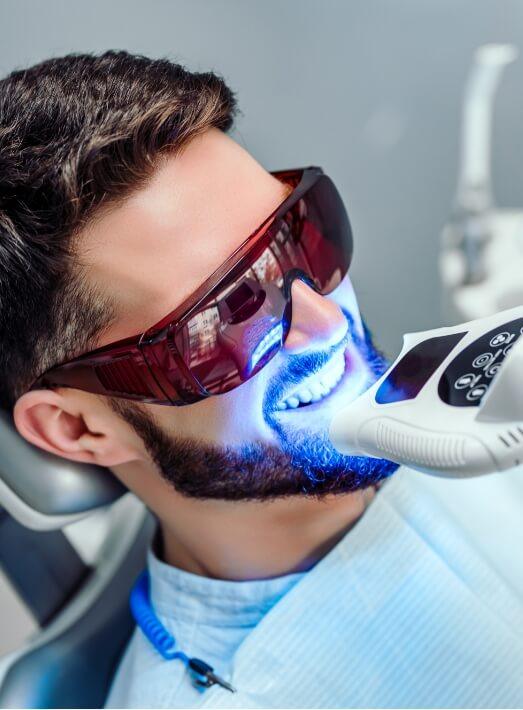 If you've ever tried to brighten your smile with over-the-counter teeth whitening products, you may have found the results disappointing. Tooth stains caused by wine, tea, coffee, tobacco, aging, and even some medications don't always budge easily.
If you've had trouble in the past with some teeth whitening products, don't give up hope. The Zoom! Whitening system is a revolutionary, in-office teeth whitening procedure that can produce dazzling results. It's safe, effective, and fast—very fast. In just over an hour, your teeth will be dramatically whiter, this solution for teeth whitening in Los Angeles ideal for patients who want immediate results.
Why Choose Westside Dental Associates for Teeth Whitening?
In-Office and Take-Home Teeth Whitening Available
Flexible Financing for More Affordable Cosmetic Care
Dentist with Accreditation in the American Academy of Cosmetic Dentistry
The Teeth Whitening Process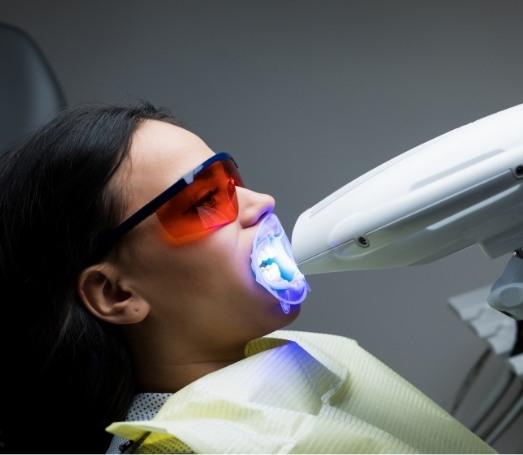 Here's what you can expect when you come in for treatment. First, our team at Westside Dental Associates will make sure you're completely comfortable. We'll double-check with you to confirm that you don't have any questions you'd like to raise. Then, after a brief preparation to isolate your lips and gums, we'll apply the proprietary Zoom! Whitening gel to your teeth and activate the whitening power with a specially designed light. Treatment takes about an hour to complete. We'll finish up with a five-minute fluoride treatment. One treatment can leave patients with teeth that are as much as six to ten shades brighter than they were before.
In addition to offering in-office teeth whitening, Dr. Latner can also provide take-home, custom-fitted teeth whitening trays and professional bleaching gel. The trays are comfortable enough to be worn night or day during conversations, working, sleeping, and daily activities. We will provide you with instructions and a chart with recommended treatment times.
Most of our Zoom! Whitening patients use a take-home whitening kit for periodic touch-ups. The combination of these systems can provide immediate and lasting results. Others, however, simply find take-home teeth whitening to be the more comfortable option of the two. It all depends on your needs.
Teeth Whitening FAQs
Instead of just dreaming about having a brighter smile, get one! There's no need to waste your money and time using over-the-counter kits that make big promises but don't deliver. We want you to feel comfortable in your decision to schedule your professional teeth whitening in Los Angeles, so we've compiled some common questions we get about the procedure below.
How can I maintain my newly brightened smile?
After investing in a brighter smile, the last thing you would want to do is not take proper care of it. To maintain your results, it's best to avoid consuming an excessive amount of stain-causing foods and beverages like coffee, black tea, soy sauce, balsamic vinegar, red wine, and tomato-based sauces. If you do consume drinks that can stain your teeth, do so using a straw so it'll pass by your front teeth and won't impact them directly. Also, when you eat foods that can stain your teeth, be sure to brush or rinse your mouth immediately after to lessen the impact.
Remember to keep up with your oral hygiene by brushing twice each day as well as flossing to remove plaque and food debris. This also helps prevent surface stains from redeveloping. You can periodically use a whitening toothpaste once or twice a week to help keep your pearly whites looking bright. If you'd like, contact your cosmetic dentist in Los Angeles for recommendations.
Are the teeth whitening products safe and effective?
The great thing about getting professional teeth whitening treatment at Westside Dental Associates is that only safe, effective, and proven products will be used on your mouth. Not to mention, they have received the ADA seal of approval and are applied in our office by dental professionals. This way, you won't have to worry about the treatment causing any harm to your mouth. Over-the-counter products aren't endorsed by the ADA because they believe that being treated by a cosmetic dentist is the best way to ensure that you are using products that are safe and effective.
If I have dental restorations, can I still get professional teeth whitening?
Do you have fillings or dental restorations that you're worried about being damaged during the treatment? There is no evidence pointing toward professional whitening products damaging fillings, crowns, bonding, veneers, or bridges. However, keep in mind that these restorations don't lighten either, so preexisting dental work could be a different shade from the rest of your smile afterward. If you have any questions or concerns about this, feel free to talk to any of our team members. We're always here to help!
How much whiter will my teeth become?
Zoom! teeth whitening can make your teeth up to eight shades brighter in a single office visit. However, it's important to note that many different factors go into the results you'll see. Plus, everyone's teeth respond differently to professional-grade products, so it's virtually impossible to know exactly how much whiter each patient's teeth will become. When you visit Dr. Latner for a consultation, he can go over any limitations of the treatment and discuss whether or not you're a good candidate for it.
Have Questions? Get Answers.