Emergency Dentistry – Los Angeles, CA
Stop Your Pain and Save Your Smile
Although you never expect it to happen to you, a dental emergency can occur at any time and without any warning. In fact, 1 in 6 Americans will face one this year. If you find yourself in this situation, it's easy to feel overwhelmed. When the unexpected strikes, it makes all the difference in the world to have a trusted emergency dentist in Los Angeles to turn to. At Westside Dental Associates, Dr. Latner is always here for you. He'll be by your side to give you the prompt care you need.
How to Handle Common Dental Emergencies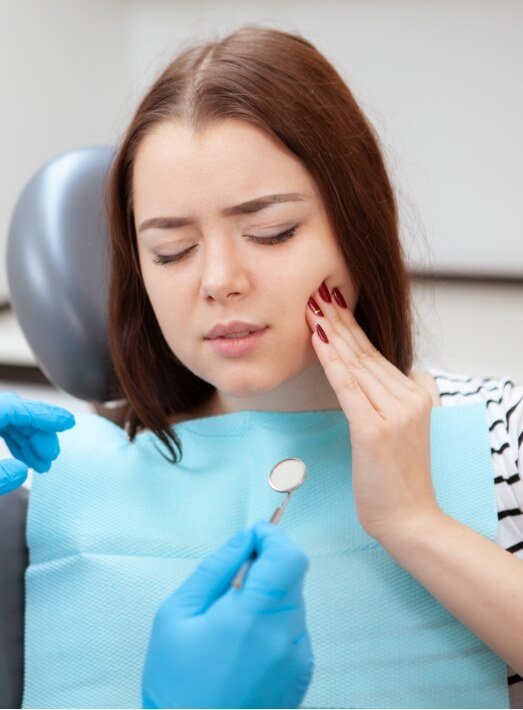 You can never fully prepare for a dental emergency, but sometimes there are red flags that can indicate one is in your future, such as an untreated cavity or a lingering toothache. Other times, they can happen without warning, such as from an injury. No matter the cause, it can be quite stressful.
Dental emergencies can take various forms, making it difficult to determine what situation requires immediate care and what can wait until your next appointment. However, if you delay getting the treatment that you need, it could lead to the loss of your tooth.
When facing a dental emergency, don't head to your local emergency room or wait too long to call your dentist in Los Angeles. Instead, contact our office right away. While you wait to be seen, there are several things you can do at home to help ease your situation.
Toothaches
You may think an occasional toothache is normal, but it's never a good sign. In fact, it often means there's an underlying problem, like an infection that may require a root canal to treat. Dr. Latner will find the cause of your discomfort and provide the appropriate treatment. In the meantime, take an over-the-counter pain reliever.
Chipped/Broken Tooth
Avoid chewing on a broken or cracked tooth and keep it clean until after it has been treated. You can apply a cold compress to the outside of your face to manage any swelling. Often, we can fix a broken tooth with dental bonding, a crown, or a veneer; however, severe fractures may require an extraction.
Knocked-Out Tooth
Dr. Latner may be able to save your tooth. Hold it by the crown and rinse it with water before trying to place it back into the socket. If you aren't successful, put it in a cup of milk or water until your appointment.
Lost Filling/Crown
Never try to fix a broken restoration on your own. Instead, keep your tooth clean and don't chew with it until after it has been repaired.
How to Prevent Dental Emergencies
You cannot fully prevent dental emergencies, but there are many things you can do to decrease the risk of one, such as:
Maintain your home oral hygiene habits.
Visit your dentist twice a year for preventive care.
Wear an athletic mouthguard if you play sports.
Don't use your teeth as tools.
Don't chew on inedible objects.
Cost of Treating Dental Emergencies
There's no specific amount you can expect to pay without first having a consultation. The cost is determined by your individual treatment plan. Dr. Latner provides you with an estimate and discusses your payment options, like using your dental insurance or CareCredit to restore a healthy smile without breaking the bank.
If you or a loved one is experiencing severe dental pain or a significant oral injury, don't wait. Contact our office for an appointment. We are here to help.
Emergency Dentistry Frequently Asked Questions
Your emergency dentist in Los Angeles wants you to be prepared when a dental crisis occurs. Think one will never happen to you? While it's a nice thought, unfortunately, it's highly likely that at some point, you'll be hit in the mouth, take a fall and bust a lip, or even come down with a serious toothache. No matter the problem, it's in your best interest to know how to handle a situation until you're able to see us. To help, we've compiled some frequently asked questions about dental emergencies. If you have additional questions, please don't hesitate to contact us.
How can I tell if it's a real dental emergency?
Bleeding, severe pain, swelling, and a broken or knocked-out tooth are all clear indicators that you have a true dental emergency on your hands. When swelling will not go down, bleeding is continual, pain is intensifying, or a tooth that was there a second ago is no longer, it's time to call the dentist's office. Certain injuries such as a fractured or broken jaw need immediate medical attention, so you'll need to head straight to your local emergency room.
But even if you're not experiencing these exact indicators, it's always best to call us and explain the situation. We can then determine if you need to see the dentist as soon as possible or if it can wait. Either way, we will happily walk you through the steps to caring for your dental problem while at home.
What do if an object is stuck in my teeth?
First, remember to never use a foreign object to dislodge an item from your mouth. Tweezer, knives, or forks can do much harm to your teeth, gums, and other soft tissues, so let them serve as tools to use around your house, not in your mouth. Instead, reach for waxed dental floss. By gently moving it back and forth between your teeth, this should dislodge the item that is stuck; however, if you're unsuccessful, you might try a water flosser. This device uses pressure to push water out and remove items.
How long does a toothache last?
While it would be nice to provide a specific timeframe, it really depends on what is causing your toothache. If it's an item lodged in your teeth, you should feel relief within a few minutes of removing the item; however, if it's an infection that is inside your tooth, it's likely the pain will not be gone until treatment is offered. The best way to tell if you need help with a toothache is to call our office if the pain isn't going away after 1-2 days.
What should I do if I'm traveling?
Whether you're across the state or out of the country, if you find yourself away from your dentist and an emergency occurs, get to a local dental professional to seek immediate treatment. Call us to let us know about the situation and schedule an appointment for your return. Once you are back in the area, your dentist in Los Angeles can examine the problem and determine if further treatment is necessary.