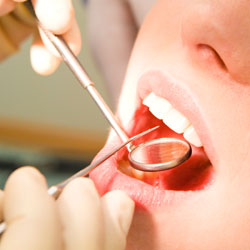 We're pretty certain you've heard of porcelain crowns before, but do you know anything about porcelain inlays and onlays?
As a cosmetic/restorative service available at Dr. Les Latner's Los Angeles dental office, porcelain inlays and onlays can help you restore teeth suffering from decay or damage. That makes them similar to fillings and porcelain crowns, but you might think of them as an in-between solution.
Despite fulfilling a cosmetic-restorative function, though, inlays and onlays aren't interchangeable. They're very similar to each other, but they restore different parts of the smile.
Inlays are specifically for restoring the small space on the top surface of the tooth, between the rounded edges known as the cusps. Because this area is indented and sees a lot of wear, it is particularly vulnerable to decay.
Onlays, on the other hand, are designed to actually restore cusps instead of just merely restoring what's between them. They are a conservative option that lets Dr. Latner preserve more of your natural tooth than something like a porcelain crown would.
Does your smile need important restorative help? Dr. Latner can help. Call our Los Angeles office today to schedule a consultation visit with us. During a consultation visit Dr. Latner can take a close look at your smile and help you understand exactly what kind of care you need, whether it's an inlay, onlay, or something else.
Call us today! We serve patients from all around the Los Angeles area.