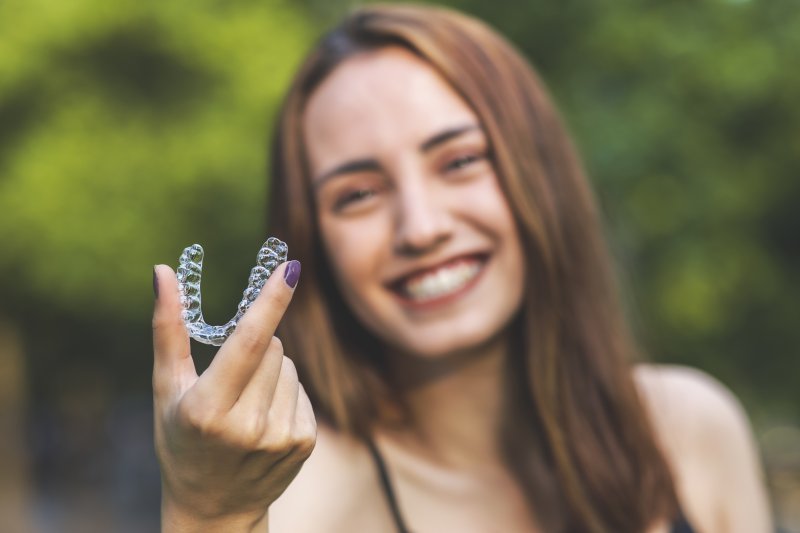 Invisalign is a revolutionary orthodontic treatment that straightens teeth using customized, flexible, clear plastic aligners. The aligners need to be worn for a minimum of 20 to 22 hours per day to be as effective as possible and will gradually shift teeth into new, more ideal positions. If you have bruxism and are interested in undergoing Invisalign treatment, you may be wondering: Can I use Invisalign if I grind my teeth? Keep reading to find out if this is a suitable option for a straighter smile.
What Is Bruxism?
Bruxism is a medical term for teeth grinding or jaw clenching, usually occurring during sleep, but it can also happen when awake. It can result in tooth damage, jaw pain, headaches, and other discomforts. The causes of bruxism are not fully understood but are often related to anxiety, stress, or misaligned pearly whites.
Why Is Bruxism a Concern?
Teeth grinding during the night can exert up to 250 pounds of force, making tooth enamel deteriorate over time. As people are less aware of their teeth grinding when they are asleep, the risk of damage while awake is considerably reduced.
Nighttime teeth grinding can cause discomfort in the jaw and neck, as well as tension headaches upon waking up. Unexplained dental damage may be an indication of bruxism during sleep. Additionally, untreated bruxism can lead to tooth decay, gum disease, and even tooth loss. Therefore, it's essential to seek treatment from a dentist or medical professional as soon as possible if you suspect you have may bruxism.
Can I Get Invisalign If I'm Dealing with Bruxism?
Aligning misaligned teeth with Invisalign treatment can aid in managing bruxism. For some individuals, misaligned teeth are one of the primary causes of teeth grinding. By aligning your teeth, Invisalign can reduce the amount of stress on your jaw muscles and alleviate symptoms of bruxism.
Improper teeth alignment can cause irritation in the temporomandibular joints (TMJ), leading to teeth grinding and associated discomfort, headaches, and other problems. Invisalign treatment can be advantageous in this regard as the aligners are worn overnight when most of the grinding occurs, providing a protective layer against bruxism. By aligning the teeth, Invisalign reduces the stress on the jaw muscles, decreasing the chances of teeth grinding and related complications.
Patients who suffer from bruxism often wear down their Invisalign aligners quicker than those who do not have the condition. It is crucial for your orthodontist to know about this before starting your treatment. The aligners must offer some degree of protection against bruxism to avoid the need for a night guard or other protective devices.
About the Practice
Dr. Les Latner is a highly skilled orthodontist who specializes in Invisalign treatment. He and his team at Westside Dental Associates provide a broad range of services, including Invisalign to straighten your teeth without the need for braces. They understand that every patient is unique and can assist you in determining whether this treatment is right for you so you can attain the smile you desire. To schedule an appointment with Westside Dental Associates or to learn more about Invisalign, call (310) 893-1833 or visit their website.