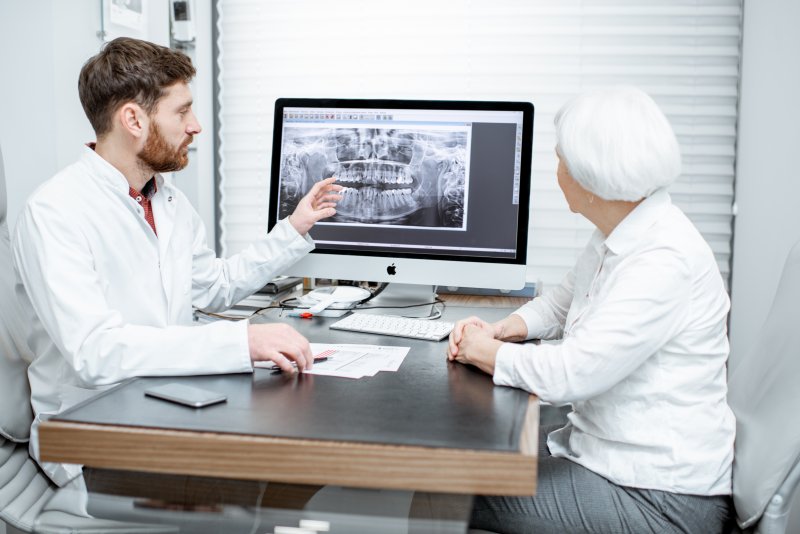 Do you have missing teeth? Dental implants can give you a new smile that looks, feels, and acts just like the one you had before! It's even considered the "gold standard" for replacing lost teeth. However, before you can start your journey to your dream grin, a dental implant consultation is necessary to ensure you're a good candidate. Here's what you can expect during your initial visit.
Meet With the Dental Team
Shortly after arriving at your appointment, you will meet with the dentist and the dental team. It's critical to get familiar with them as they will be the main ones supporting and guiding you throughout the dental implant process. Expect an exchange of casual conversation and introductions to help you feel more comfortable.
Preliminary Conversation
Next, your dentist will initiate a preliminary conversation to discuss your unique smile goals, habits, and oral health. Aside from asking questions about your medical history, they will review your records, x-rays, and impressions. The purpose of this conversation is for your dentist to understand your needs and desires. Plus, it's the perfect opportunity for you to ask questions and express any concerns!
Oral Examination, X-Rays, 3D Imaging
A thorough oral examination, including x-rays and 3D imaging, will be performed to assess your teeth, gums, and overall health. It allows your dentist to get a better idea of what's going on in your mouth. This step is essential to determine whether you have sufficient bone density for successful implantation. Otherwise, a bone graft, or other preliminary treatment, may be required before a dental implant.
Treatment Discussion
After evaluating your case, your dentist will decide whether you're a good candidate for treatment. If so, your dentist will explain recommended treatment options and types of implants that best suit your needs.
Once a dental implant treatment is determined, your dentist will go over the details of the implant process, including:
Timeframe to complete treatment
The number of appointments necessary
Local anesthesia and sedation options
What to expect after surgery
Aftercare instructions
Wrap-Up of Consultation
At the end of your consultation, don't be afraid to ask any final questions! Having all your concerns addressed will help you feel more confident about your decision to get dental implants. Make sure to ask your dentist questions about themselves to ensure they have the experience and knowledge you can trust. A good dentist will be more than happy to share their experiences and success stories with you.
A dental implant consultation is a necessary step in your journey towards a beautiful, restored smile. After your initial visit, you should feel well-informed and ready to move forward with treatment!
About the Author
For over 30 years, Dr. Les Latner has provided patients with experienced, compassionate, and personalized dental care. He earned his dental degree from Washington University in St. Louis and is currently a proud member of several professional dental affiliations, including the American Dental Association. If you're considering dental implant surgery, schedule a consultation with Dr. Latner via our website or call (310) 477-1081 to determine if it's the right solution for you.