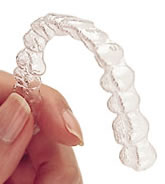 If you've explored our site before, you may have noticed that Dr. Les Latner offers two options for cosmetic braces: Six Month Smiles and Invisalign. Both offer discreet care and are made to work quickly. But how can you know which one is right for you? Are they even comparable? That's a question we'd like to look at for this post so you can have a clearer understand of how both work.
Two Cosmetic Options
Invisalign and Six Month Smiles can't do the work of traditional braces. They're cosmetic systems and are designed to fix crowding, slight misalignment, and other issues.
The way Invisalign does this is with a series of completely clear trays, not brackets and wires. Instead of having anything tightened, you'll simply move to a new tray every two weeks, with each one bringing you closer to your goal. You can also take your trays out when you eat, brush, and floss. That means you don't have to make any changes to your diet or your daily brushing routine. You do have to be committed to wearing your trays 22-24 hours a day, though, with a treatment time of about 12-18 months.
Treatment with Six Months Smiles takes less time than that—literally about six months. There are restrictions on what you can eat, though. What's more, Six Month Smiles uses clear brackets and tooth-colored wires, making it discreet if not completely invisible. But if you have a special event coming up, like a wedding, a job search, or another big event, Six Month Smiles can help you reach your goal faster than almost any other option.
Which One Is Right For You?
That all depends on your needs. The only way to know which is right for you is with a consultation appointment with Dr. Latner at Westside Dental Associates in Los Angeles. Call us today to reserve your appointment. We serve patients from Santa Monica, Beverly Hills, West LA, Mar Vista, and beyond.