When the thought of having to visit a dentist sends chills down the spines of many adults, it is easy to see how terrifying the idea can be to small children. It may not be easy, but it is important to teach your little one that there is nothing to be afraid of, and that the dentist is there to help them and their teeth to grow healthy and strong. If you can establish a healthy and hygienic oral care routine in conjunction with regular dental check-ups, your child is much more likely to go through life without the need for extensive dental work later.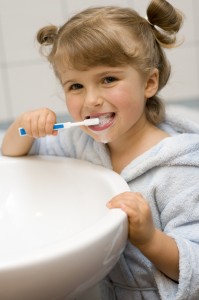 Tips to Ease the Fear of Your Child
The best advice to help your child learn not to be afraid of the dentist is to start taking them while they are still very young. A child's first dental check-up should take place as soon as their first tooth emerges or by the age of one at the latest. Setting regular dental exams as your child grows allows them to see the process as a fact of life. Regular dental exams also allows your child to grow up knowing their dentist personally, so they won't be so frightened when one day you take them to a stranger who wants to poke around in their mouth.
Another thing to keep in mind when preparing your child for a dental appointment is your word choice. A small child will not understand terms like "cavity," "filling," or "root canal," but others such as "shots" or "drilling" sound downright scary. Try to explain to your child in simple terms what the dentist does. One example is to explain to a child with a cavity that they have a "sick tooth" that the dentist needs to make better. By putting the procedure into terms that your child can relate to they will feel more comfortable during their visit.
Dr. Les Latner is Great with Children
Dr. Les Latner of Westside Dental Associates has more than 30 years of experience in dentistry. A graduate of the Washington University – St. Louis School of Dental Medicine, Dr. Latner completed his two year residency in pediatric dentistry at Children's Hospital Los Angeles. In addition to this educational experience, Dr. Latner also served as the president of the Southern California Society of Dentistry for Children from 1995-1996 and as editor from 1992-1998, and is associated with the Academy of Pediatric Dentistry as well as the California Society of Pediatric Dentists. Dr. Latner understands the special needs and fears of children when they are visiting the dentist— especially for the first time—and is able to help calm them as he provides care to their teeth. Schedule a visit today and get your young one started on the path to a lifelong healthy smile.