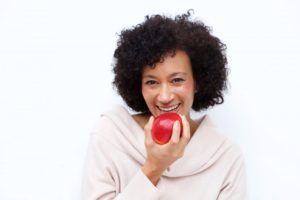 Did you know that tooth enamel is the strongest material in your body? As durable as it is, your teeth can be subjected to a lot over the years. Extensive decay, wear and tear, or facial injuries can take a toll on your pearly whites. If your smile has sustained quite a bit of damage, you might need a comprehensive, personalized restoration plan called a full-mouth reconstruction in Los Angeles. While no two of these plans are exactly alike, here are five of the most common treatment options your dentist may use to rebuild your smile.
1. Dental Crowns
Sometimes, a tooth has suffered such intense decay that a filling is not enough to repair it. In that case, your dentist may use a dental crown. These tooth-shaped caps used to be made of noticeable metals, but now they are typically made from tooth-colored materials like porcelain. Once the crown has been placed over your tooth, it can provide years of protection against further damage while looking completely natural.
2. Tooth Extractions
Dentists generally try to preserve your natural teeth for as long as possible, but in some cases, the damage is so severe that removing a tooth is the best choice for your oral health. Your dentist will make sure you're fully comfortable before extracting one or more teeth. After you've healed, you can discuss options for replacing your lost teeth.
3. Fixed Bridges
Patients who are missing one to three teeth in a row might benefit from a fixed dental bridge. The remaining teeth on either side of the gap in the smile are reshaped to support dental crowns. Then, artificial teeth are held between these crowns. Like dental crowns, each fixed bridge is custom-made to blend in with your smile.
4. Dentures
If you're missing several or even all of your teeth, you may be a candidate for a denture. A full denture sits atop your gums and brings back an entire row of missing teeth. A partial denture uses a metal framework and strategically placed false teeth to fill the spaces in your smile. You can even anchor a denture onto dental implants for added security.
5. Dental Implants
By far the most beneficial way to replace missing teeth, dental implants are titanium posts that are placed in the jawbone to mimic the roots of the teeth. They can be inserted at precise angles and locations throughout the jaw, so no matter how many teeth you've lost, there's a dental implant solution for you. Plus, they can last for decades longer than bridges or dentures alone.
If you're looking to rebuild your smile with a full-mouth reconstruction, the first step is scheduling a consultation with your dentist. After examining your smile, they can develop a personalized treatment plan to help you get a smile you can be proud of!
About the Author
As a dentist in Los Angeles, Dr. Les Latner has helped countless patients restore their smiles with full-mouth reconstructions over the past three decades. He is one of fewer than 10 dentists in the entire country to have earned both a Mastership in the Academy of General Dentistry and accreditation in the American Academy of Cosmetic Dentistry. He offers all of the treatment options and more for rebuilding smiles. To get started, contact his practice, Westside Dental Associates, at (310) 477-1081.