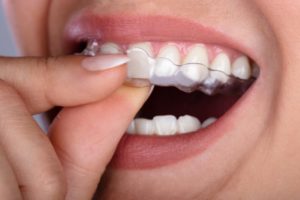 Some people who are interested in Invisalign wonder whether it's possible to only wear the aligners on either their top or bottom teeth. At first glance, this makes sense. Why bother straightening your bottom teeth if it's only your top teeth that are crooked? This type of treatment, known as single-arch Invisalign treatment, can correct minor cases of dental misalignment and cut down on your overall cost of Invisalign treatment in Los Angeles. But is it safe? Continue reading to find out.
How Invisalign Works
For most Invisalign patients, their dentist will create a series of clear personalized trays, called aligners, to wear over their teeth. Each set of aligners is designed to shift a portion of the smile into the ideal position. Every two or three weeks, the patient moves onto the next pair of aligners until their entire smile is perfectly straight.
With single-arch Invisalign treatment, you'd still switch out your aligners every few weeks. The sole difference is that you'd only be wearing them on either your upper or lower teeth. However, not everyone is a good candidate for this treatment.
Can I Get Invisalign on Just My Top or Bottom Teeth?
To find out whether you qualify for single-arch Invisalign treatment, you'd have to schedule a consultation with your dentist. They can examine your unique smile and determine whether you need to wear aligners on one or both arches.
You may want to ask about single-arch treatment if you wish to correct any of the following:
Minor gaps
Slightly crooked front teeth
One or two teeth that have tipped out of alignment
Relapse after previous orthodontic treatment
However, only shifting one arch can come with consequences.
Risks of Single-Arch Invisalign Treatment
While single-arch Invisalign treatment may make the front teeth straighter, it can throw off your overall bite. Specially, it can cause issues with occlusion, which is the way in which the upper and lower teeth come together when you bite. Malocclusion (the medical term for an improperly aligned bite) can lead to problems speaking and chewing as well as chronic teeth grinding, which increases your risk of jaw and neck pain, worn-down enamel, and tooth fractures.
Shifting just one of your two arches messes with the balance of your whole mouth. If you're only trying to straighten the front teeth, though, this might not be much of an issue.
In the end, only your dentist can determine if single-arch Invisalign treatment in Los Angeles is right for you. Contact them today to schedule a consultation.
About the Author
Dr. Les Latner is a dentist with 30+ years of experience. He is one of the fewer than 10 dentists who has earned both a Mastership in the Academy of General Dentistry and accreditation in the American Academy of Cosmetic Dentistry. He is also a certified Invisalign provider. To find out whether you could benefit from single-arch Invisalign treatment, you can contact his practice, Westside Dental Associates, at (310) 477-1081.