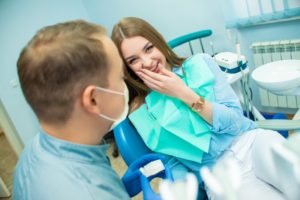 If your dentist recently told you that you needed a root canal, you probably got home and searched online for as much information as you could find about this dental service. However, the Internet is chock-full of misconceptions out there about root canal therapy. Many of these could scare you into not scheduling the procedure, which could cause more harm in the long run. To help you show that there's nothing to fear, let's debunk four popular root canal myths in Los Angeles.
Myth #1: You Only Need a Root Canal If Your Tooth Hurts
While a severe toothache often indicates an infection that must be treated with root canal therapy, it's possible for the tooth to be infected without causing pain. In some cases, the tooth's nerve may have been damaged to the point that it can no longer register pain.
Myth #2: Root Canals Are Painful
Actually, root canals are designed to relieve the pain caused by serious infection or decay. Thanks to advancements in dental anesthetics, sedation, and treatment technology, getting a root canal these days often feels similar to getting a standard filling.
Myth #3: Root Canals Make You Sick
Some people claim that root canal therapy makes you more likely to develop certain illnesses in the future. However, this false idea resulted from faulty research techniques from a century ago. Now that we have a great understanding of the causes of many illnesses, this belief has been thoroughly debunked.
Myth #4: It's Better to Pull a Tooth Than Get a Root Canal
Dental professionals agree that, when possible, it's always best to save a tooth. As realistic as modern tooth replacements like dental implants are, nothing beats the pearly whites you were born with. Plus, extracting and replacing a missing tooth can be expensive. Getting a root canal will save you money and time while also allowing you to keep your natural tooth.
Contrary to popular belief, root canal therapy is a virtually painless way to remove an infection from your tooth and preserve your natural smile. One common symptom of this problem is intense, persistent tooth pain. If you've been experiencing a serious toothache, call your emergency dentist in Los Angeles right away to see if you might benefit from a root canal.
About the Author
Dr. Les Latner has more than 30 years of experience in the dental field. He is one of the fewer than 10 dentists who has achieved both a Mastership in the Academy of General Dentistry and accreditation in the American Academy of Cosmetic Dentistry. He is also able to provide fast relief for dental emergencies and can heal your infection with root canal therapy. To learn more, you can contact his practice, Westside Dental Associates, by calling (310) 477-1081.