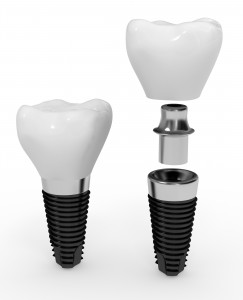 Recently, the American Academy of Implant Dentistry found that close to 30 million Americans are missing all the teeth in one or both of their jaws. The group also found that 15 million Americans are using a crown and bridge to replace a missing tooth. Given all that, restorative dentistry is one of the most important services a dentist can offer.
Crowns, bridges, and dentures have long been used to fill gaps and restore a smile's appearance and function. But traditional forms of each have their limitations. While they can restore your appearance, they can't give you back the functionality you once had. They also can't stop the bone loss you'll experience.
That explains why dental implants gain in popularity each year. Annually, the number of patients who have dental implants increases by 500,000. What's more, the success rate for dental implants is 98 percent. Dr. Les Latner performs implant surgery and completes implant restorations in his Los Angeles dental office.
What makes dental implants so effective?
It's the way they respond to your smile. Dental implants come in two parts, mimicking the structure of a natural tooth. The crown portion fills in the gap in your smile, while the implant portion fuses with your jaw, just like a natural root. When your implant procedure is finished, your smile will have the natural appearance and functionality you've been missing.
Not everyone is an ideal candidate for the implant surgery though. If you want to know if dental implants are right for you, call Westside Dental Associates. Dr. Latner would be happy to advise you in his Los Angeles dental office. We serve patients from all across the Los Angeles area.