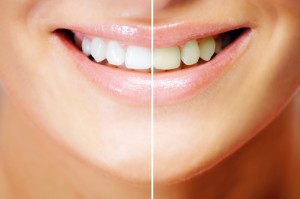 Are your teeth not as white as you'd like to be? Have you tried whitening toothpaste or other drugstore whitening treatments and aren't satisfied with the results? Try the professional teeth whitening treatments from Westside Dental Associates!
Teeth frequently become stained from wine, tobacco, tea, coffee, and aging. These stains can cause you to lose confidence in yourself and your smile. We're here to help you remove these stains and have beautiful, white teeth once again.
We offer two different whitening treatments to meet your unique needs. One option is Zoom! Whitening, which is an in-office procedure that gives you noticeably whiter teeth in just over an hour. If you want immediate results, this is the option for you!
Another option is take-home teeth whitening trays. Dr. Latner will create custom trays to help you achieve your ideal shade of white and you can use them in the comfort of your own home. Also, whitening trays can be helpful to use after a Zoom! Whitening treatment to help maintain your teeth.
No matter which option is right for you, you'll end up with the bright, beautiful, white teeth of your dreams!
Here at Westside Dental Associates, our Los Angeles office is dedicated to providing you with quality dentistry care. Give us a call today and learn more about our teeth whitening options. We'd love to give you a beautiful, white smile!