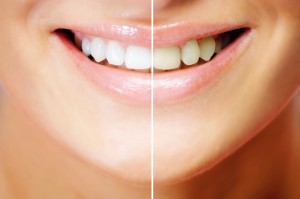 Few people have a naturally bright smile. That's because so many things we run into on a daily basis can cause stains—things like coffee, tea, red wine, juice, and soda, for instance. Tobacco use also contributes, as does aging. All of which explains why teeth whitening is among the most popular cosmetic dentistry services offered by Westside Dental Associates.
Teeth whitening with Zoom! is easy and yields amazing results. With just one appointment, you can expect to see your smile brightened by anywhere between 6 to 10 shades.
How does Zoom! work?
It starts with us making sure you're comfortably seated. We'll put a protective cover over your lips and gums, and then apply the special Zoom! Whitening gel to your teeth. A low-heat lamp will activate the gel, which, over the course of an hour, will penetrate the enamel and dentin in your teeth to remove stains and discoloration. When we're all done, we'll finish your visit by applying a fluoride treatment to your teeth to give them special protection.
That's all there is to it!
Call Westside Dental Associates to find out more about teeth whitening and our other cosmetic and restorative solutions. Dr. Latner whitens smiles from Los Angeles, Santa Monica, Beverly Hills, West LA, Mar Vista, and beyond.