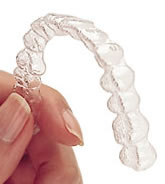 If you're an adult with a misaligned smile, the thought of straightening your teeth with traditional braces may make you nervous. You've worked hard to cultivate a professional image. The last thing you want to do is spend the next few years tied to brackets and wires.
Thankfully, Westside Dental Associates has a cosmetic dentistry solution that can help.
With FDA-approved Invisalign clear braces, it's possible to straighten your smile discreetly, without jeopardizing your professional appearance, because Invisalign is an "invisible" cosmetic solution for straightening your smile.
Here's how Invisalign works: During your first appointment with us, Dr. Latner will use 3D computer imaging to create a treatment plan for you. Then, using that information, Invisalign will craft a series of aligners designed to bring your teeth into their ideal alignment over the course of your treatment. There's absolutely nothing to tighten. Instead, you'll just need to move to the next pair of aligners at the appointed time.
And what's more, because Invisalign's aligners are removable, you can take them out to eat and drink, and before you brush and floss. You can even take them out for special events, like a date, an important meeting, or a long-anticipated family event like a wedding or a reunion.
This kind of convenience and freedom just isn't possible with traditional bracket-and-wire braces.
Are you ready to find out more about Invisalign clear braces, or one of our other cosmetic dentistry services? Call Westside Dental Associates today to schedule a consultation visit, or take a look at our cosmetic dentistry page. Dr. Latner and our team have the expertise and the experience to give you the smile you've always dreamed of.