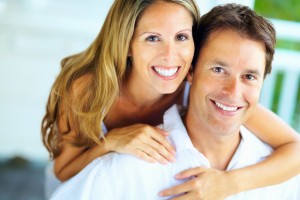 Does the appearance of your teeth stress you out more than this year's holiday shopping? Have you always wanted to flash that confident smile all your peers seem to enjoy? Well, your friends weren't blessed with extra-good genes. In fact, I'll let you in on their secret — porcelain veneers in Los Angeles. Veneers are dramatic smile enhancers that can transform a smile in just two visits to Westside Dental Associates. Keep reading to learn more today!
Enhance Your Smile With Porcelain Veneers in Los Angeles
Dr. Latner has helped so many adults in Los Angeles achieve the smile of their dreams with porcelain veneers: a fast, simple procedure that dramatically enhances smiles in just two visits to Westside Dental Associates.
Ultra-thin porcelain coverings, dental veneers are approximately the width of a contact lens. They work by attaching directly to the damaged tooth (or teeth), instantly enhancing their size, shape, color and overall appearance. And because porcelain is a material that's highly resistant to stains, they're also permanent teeth whiteners — something our Los Angeles patients always appreciate.
Dental Problems Solved By Porcelain Veneers
This option is a good choice for a number of dental issues, including the following:
Orthodontic issues. If you've got gapped, misaligned or misshapen teeth, forget noticeable, embarrassing braces. You can repair orthodontic problems quickly and beautifully with porcelain veneers.

Chips and cracks. For teeth that have been damaged after an accident, porcelain veneers provide a quick repair.

Stains or discoloration. If you've tried teeth whitening treatments in the past but haven't found any success, porcelain veneers are the solution you've been waiting for. They instantly brighten even the most stained teeth, leaving you with a beautiful white smile that lasts for years and years.
Good candidates for dental veneers in Los Angeles are adults who have damaged front teeth and are in good oral and overall health. Veneers are not a good option for patients suffering from gum disease.
Porcelain Veneers: The Procedure
Once you've decided that porcelain veneers are the smile enhancer you need, you can expect the procedure to take just two visits to Dr. Latner's office. In the first, you'll discuss your smile goals and your teeth will be prepared for your veneers.
In the second appointment, your porcelain veneers are ready for placement. Dr. Latner will examine their size, color and fit, and you get the final say before they're securely bonded on.
Once the veneers have been placed, you get your first look at your new, beautiful smile — and we know it's one you won't ever want to hide again.
Schedule Your Appointment for Los Angeles Porcelain Veneers
Here are some examples of smiles Dr. Latner has drastically improved with porcelain veneers. Are you ready for your own transformation? If so, call our office to schedule your appointment today. We're waiting to hear from you!