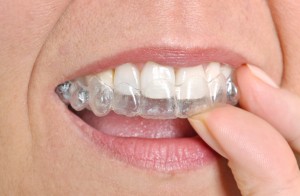 If you're dealing with the damaging, stressful effects of imperfect teeth, the last thing you want to do is mar your smile even further with noticeable metal braces. Thankfully, there's a better option for busy adults and teens: you can choose Los Angeles Invisalign at the office of Dr. Les Latner. They're clear plastic aligners that straighten teeth invisibly, and — well, keep reading for the top four reasons you need Invisalign in 2016!
Why You Should Choose Los Angeles Invisalign: 4 Reasons
Invisalign is an FDA approved orthodontic treatment that uses clear, custom fit trays to gradually shift your teeth into a preferred position. Patients who have chosen this method at Westside Dental Associates confirm what we already know again and again: Invisalign is well worth the investment. Here's why.
#1: Invisalign straightens teeth discreetly
By far the top reason that adults and teens alike choose Invisalign is for its invisibility. The clear, plastic aligners offer a discreet way to straighter teeth, something that you just don't get with other options. With Invisalign, chances are good that no one will ever know you're undergoing orthodontic treatment.
#2: Invisalign trays are removable for eating and cleaning
Another excellent advantage of choosing Invisalign is that you don't have to worry about learning any special maintenance techniques — and you'll never have a little bit of lunch leftover in your braces. That's because Invisalign trays are removable for easy eating and cleaning. As long as you're wearing the trays for the recommended 20 to 22 hours each day, you can enjoy meals and brush your teeth just the way you always have.
#3: Invisalign is comfortable
With smooth plastic aligners, you'll never have to deal with the discomfort of a popped off wire or loose bracket rubbing a sore into your delicate cheeks, gums or tongue. In fact, we're pretty sure the only thing you'll ever feel with your Invisalign braces is the progress of your teeth moving into their desired position.
#4: Invisalign fits around your schedule
Busy adults often appreciate the convenience of Invisalign the most. The average treatment time is just one year, reduced to almost half that of traditional braces. That means far less of your time is spent going back and forth to your Los Angeles dentist's office.
Schedule Your Appointment in Los Angeles Today
If you're interested in improving your smile with discreet orthodontics, what are you waiting for? Find out if Invisalign is right for you by contacting the office of Dr. Les Latner. We're here to help Los Angeles residents achieve their most dazzling smiles — and that means we want to help you. Call us today!