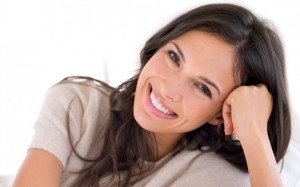 A UK study revealed, when looking at photos of unknown people, participants believed that those with crooked, chipped, stained, or missing teeth were uneducated, poor, or unhealthy. Like it or not, people make assumptions based on appearance, so if you're not happy with the smile you see in the mirror, let the talented team at Westside Dental Associates help. We have a wide variety of restorative and cosmetic dental services to restore, repair, or renew damaged smiles. For patients interested in a conservative, minimally invasive, cost efficient solution, porcelain veneers may be your best option to conceal multiple smile irregularities with a single procedure.

Best Veneers from the Cosmetic Dentist Los Angeles Loves – Dr. Les Latner
Dr. Latner is a founding member of the Los Angeles Academy of Cosmetic Dentistry, and is well known for creating beautiful smiles. Patients throughout Southern California have entrusted their smile enhancements to Dr. Latner and the Westside Dental Associates team who bring years of experience and training to every procedure. There's no better place to enhance your smile, and no better procedure than quick, painless porcelain veneers.
Patients typically receive veneers in two to three office visits. The first visit will be a consultation. If you determine that porcelain veneers are the right option to correct your smile flaws, Dr. Latner prepares your teeth removing a small amount of enamel from the front facing surface. Our team then takes impressions of prepared teeth and the full bite that our lab uses to craft custom porcelain veneers. A temporary veneer is placed to protect your prepared dentition, and allow you to get used to the look and feel of veneers. When your custom veneer arrives, you'll return to our office for placement. Porcelain veneers are thin sheaths of dental porcelain that fit over the fronts of teeth. Roughly the width of egg shells, veneers require very little enamel removal for placement.
The Benefits of Porcelain Veneers at Westside Dental Associates
No matter what your age, schedule, or budget, you deserve a picture-perfect smile. Some of the many benefits of smile correction with porcelain veneers from Westside Dental Associates include:
Compared with more complex restorative or orthodontic treatments, porcelain veneers restore smiles quickly and are minimally invasive
Porcelain veneers conceal or correct numerous dental irregularities with one procedure saving money
With proper care, porcelain veneers last 25 or more years
Porcelain veneers protect weak or damaged teeth from further damage
Because they are stain resistant and mimic the reflective qualities of natural porcelain, veneers look as good as they feel for years to come
Call Your Cosmetic Dentist 90064 Residents
If you don't like your smile, let Dr. Latner help you fall back in love. Our knowledgeable dental team can transform your smile with porcelain veneers. Still not sure porcelain veneers are right for you? Call to schedule a consultation today. We're happy to discuss your options, and help you make the treatment choice that's right for you.