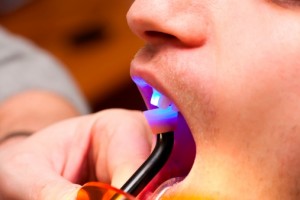 Approximately 43,250 men and women in America will be diagnosed with oral cancer this year alone, and only about half of them will survive to see 2020. This is because oral cancer is most often undetectable in its earliest stages, when the disease is most successfully treated. Instead, it is allowed to progress and develop, claiming another life every hour, 24 hours a day. Fortunately, Dr. Les Latner offers oral cancer screening in Los Angeles, CA and the surrounding areas, giving his patients a clear advantage when it comes to early detection and timely treatment.
What Are the Signs of Oral Cancer?
An oral cancer screening and a biopsy is the only certain way to accurately diagnose the disease, but there are certain symptoms you can keep in mind and watch for between visits to our office. The most common signs of oral cancer include:
A sore in the mouth that bleeds and/or doesn't heal within two weeks
A thickening of tissue in the cheek lining or under the tongue (may or may not be painful)
Whitish or red patches anywhere in the mouth
Persistent hoarseness and difficulty swallowing
Pain or difficulty in moving the tongue
Numbness or tingling
If you notice any of these symptoms or any other abnormalities, contact us right away to schedule your oral cancer screening. We will always take the time to discuss the status of your oral health with you in a way that is straightforward and easy to understand.
Schedule Your Screening Today
If it has been more than six months since your last dental checkup, please don't hesitate to contact our office today to schedule your next visit. Dr. Latner and his team look forward to welcoming you to our state-of-the-art dental practice in Los Angeles, CA. With a variety of general and preventive dentistry services, including oral cancer screening, Dr. Latner can help you preserve your oral health as well as your overall wellness. Our family-friendly dental office warmly welcomes patients from throughout West LA, Venice, Marina Del Rey, Rancho Park, Mar Vista, Beverly Hills, Santa Monica, Brentwood, and beyond.