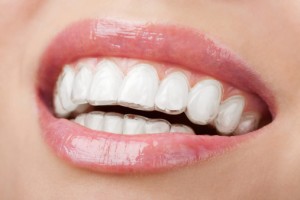 High school can be brutal. Gym class, pop quizzes, lunchtime — you don't miss it, do you? Thankfully, once we leave those halls, the list of "embarrassing" things we have to endure gets a lot shorter. For one thing, you don't need to worry about bulky, noticeable metal braces. That's because metal braces for adults are… well, they're just not a thing anymore.

Today, more adults are getting braces than ever before — but that doesn't mean brackets and wires, of course. There are several excellent options for straightening adult teeth, and you've probably heard of the most common. It's Invisalign: clear, removable braces that straighten your teeth faster and less noticeably than ever before. We've been using Invisalign for years to give adults who missed the boat on metal braces in high school the straight, beautiful teeth they deserve. In fact, Dr. Latner was one of the first general dentists to offer Invisalign — so you can trust that he knows what he's doing.
Advantages of Invisalign
Time and time again, adults have found that Invisalign is a comfortable, fast way to straighten their teeth — without having to endure the embarrassment of traditional braces. Because Invisalign doesn't use wires and brackets, there's no worry about pain or irritation on your cheeks and gums. It's also faster than traditional braces — and because it uses clear trays, no one even has to know you're undergoing orthodontic treatment.
Another big advantage of Invisalign is that the clear braces are removable — meaning you don't have to worry about any special maintenance procedures. As long as you're sure to wear the aligners from 20 to 22 hours each day, you can inconspicuously slip them out before meals and for cleaning, ensuring that you can eat, brush and floss just like normal.
How Invisalign Works
The FDA-approved Invisalign system uses a series of clear, removable aligners that are fitted to your unique mouth. They gently move your teeth into the desired position — invisibly.
To fit you with your unique aligners, Dr. Latner will take x-rays, photos and impressions of your teeth, which allows him to create a treatment plan especially for you and your mouth. Once you get your aligners, you'll wear a new set approximately every two weeks to advance you onto the next stage of treatment. You'll have a checkup with your doctor approximately every six weeks — and the total treatment time is approximately one year in adults.
Invisalign — Right for You?
If you've got gapped or overcrowded teeth, or if you're dealing with the effects of a bad bite — like an overbite, underbite or crossbite — chances are you're an excellent candidate for Invisalign. The only way to know for sure is to make an appointment with Dr. Latner today! If you decide this option is right for you, you and the dentist can begin discussing your treatment plan immediately.