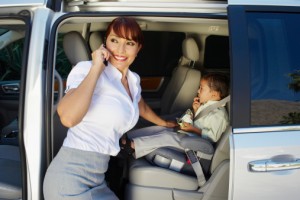 No time to fix your smile? Dr. Latner understands that it's sometimes difficult to make time for the dental treatment you need to improve your smile. That's why he's always looking for new ways to make your dental treatment more efficient. With this in mind, Dr. Latner now offers quick and convenient orthodontic treatment with Invisalign clear braces. Invisalign is a modern alternative to traditional bracket and wire braces. Invisalign is made of a series of custom-fitted clear plastic aligners, designed to incrementally move your teeth into proper position. All you have to do is switch out your aligners every couple of weeks. Unlike traditional metal braces, Invisalign checkups are quick and painless. The treatment typically takes about 12 months for adults, and about 24 months for teens. However, with Invisalign, your braces are barely noticeable, and you won't have to make any changes to your already busy lifestyle. It's time to finally get the orthodontic treatment you've been putting off; make your Invisalign consultation appointment with Dr. Latner at Westside Dental Associates today.  Your 90064 family dentist restores smiles daily throughout West Los Angeles and the surrounding communities including: Brentwood, Santa Monica, Venice, Beverly Hills, Marina Del Rey, Rancho Park and Mar Vista.
Why Choose Invisalign?
Invisalign is faster and more convenient than traditional metal braces. Benefits include:
Clear aligners that are virtually invisible
Smooth comfortable plastic aligners
Aligners that are easily removable for oral hygiene or special occasions
You can still eat and drink whatever you want
How Do You Get Invisalign?
Invisalign clear aligners are made of strong and virtually invisible, clear plastic. To start your Invisalign treatment, Dr. Latner will take your dental impressions, x-rays, and photographs. This information is sent to the Invisalign labs, and a plaster mold is made and scanned into a computer creating a three dimensional model. Invisalign technicians will then separate your teeth in the model and move them to their ideal positions as prescribed by Dr. Latner. Custom software then simulates the movement of your teeth into their new positions in stages. Dr. Latner will approve the simulation, and your new plastic resin aligners will be fabricated for each stage of your treatment. Finally, you'll receive your new clear aligners and begin your treatment, exchanging them every two weeks as your treatment progresses.
West Los Angeles Invisalign Appointments
For the best results, Invisalign clear braces should be worn for at least 20 hours per day. However, you can always remove the aligners to eat, and brush and floss your teeth. Make an appointment with Dr. Latner for an Invisalign consultation at Westside Dental Associates today.  The sooner you schedule an appointment, the sooner you'll be able to show off your brand new smile. Dr. Latner is a trusted 90064 dentist, proudly serving patients of all ages throughout West Los Angeles, Brentwood, Santa Monica, Venice, Beverly Hills, Marina Del Rey, Rancho Park, Mar Vista, and nearby cities.