Want a beautiful smile without the pain and hassle of traditional braces? Invisalign might be your best option. The experts at West Side Dental in Los Angeles are waiting to help you create a smile you're proud of.
Los Angeles' Expert Invisalign Clear Braces Dentist
We all want to look our best and that starts with our smile. If you've been hiding your smile because you don't want to display misaligned teeth and avoided braces because you're worried a mouth full of metal won't look any better, setting up a consultation with Westside Dental's Orthodontic team to discuss Invisalign clear braces should be your next stop. The premier Los Angeles clear braces provider, and the expert orthodontic team will provide you with a custom plan to get your smile perfect in twelve months without the added pain and embarrassment of traditional braces.
Invisaling Vs. Traditional Braces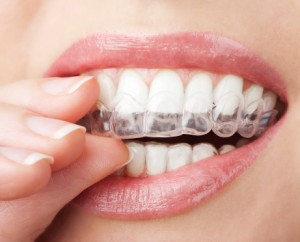 Traditional braces have numerous drawbacks that lead people to avoid straightening their teeth. Metal braces hurt, they keep you from eating your favorite foods, and they make you look like a teenager. There is an easier way to perfect your smile: Invisalign.
Invisalign clear braces are guaranteed to straighten your teeth in less time, with less pain. Most patients have completed their Invisalign straightening within a year. The custom-fitted alignment trays are easier and less painful than the metal braces that need to be tightened and are notoriously painful. The clear plastic alignment trays gently and comfortably straighten your teeth. No need to tighten metal wires, just switch to a new alignment tray every two weeks.
The old hassles of cutting gum and popcorn and apples out of your diet and spending extra time brushing between meals and cleaning food out of the braces are completely forgotten with Invisalign. Simply remove your tray during meals, snacks and cleanings. Then, reinsert after to continue your alignment without changing your routine. Most importantly, never miss a photo op. With Invisalign you'll have a perfect smile from start to finish. Forget the mouth full of metal, and smile for the camera thanks to clear braces.
Westside Dental Your Invisalign Dentist
As one of the pioneer Invisalign providers, Dr. Latner and the Westside Dental team have years of experience providing patients with high quality, custom clear braces to help you straighten out your smile quickly, painlessly, and effortlessly. Using cutting edge digital imaging, Dr. Latner provides his patients with a unique treatment plan for your best smile. Don't put off being your best self for one more day. Call us to set up your initial consultation with the West Los Angeles, CA dental practice that proudly serves patients from throughout the surrounding areas, Venice, Marina Del Rey, Rancho Park, Mar Vista, Beverly Hills, Santa Monica, Brentwood, and beyond.