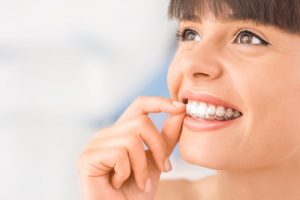 Do you want to make a positive impact on the people you encounter? Statistics show having a set of straight teeth can help. However, if you're challenged in this area, all hope isn't lost. You can achieve the smile of your dreams with Invisalign in Los Angeles. Before undergoing the treatment process, though, a local cosmetic dentist provides some key facts you should know about the procedure.
How the Invisalign Process Works
Instead of brackets and wires, the Invisalign method of straightening teeth relies on a series of custom-designed clear trays to gradually adjust the teeth until they are perfectly-aligned. The process begins with the dentist capturing digital X-Rays and performing a thorough smile assessment.
Then, digital bite impressions are taken, and they are used to create a full treatment plan. The information is sent to a trusted Invisalign lab that will create the complete set of trays.
Once they arrive from the lab, you'll be invited back to your dentist's office to retrieve the trays and get on with revamping your smile. Before you get to this point, though, there are a few things you need to know about the Invisalign process.
#1 – Expect to Wear the Trays Most of the Day
To stay on track with your dentist's treatment plan, you'll need to wear your trays at least 22 hours a day. Otherwise, any progress made could be compromised from your teeth shifting. Ultimately, this can extend the time needed to correct your bite.
#2 – You'll Need to Perform Oral Hygiene More Often
It's recommended you brush and floss your teeth at least two times a day. However, when you wear Invisalign trays, you'll need to perform oral hygiene more often.
The reason is the tightly-fitting trays create the perfect environment for bacteria to grow. Therefore, when you remove them to eat, in addition to cleaning the trays, you'll also need to perform oral hygiene to rid your mouth of the bacteria that have accumulated.
#3 – Invisalign Trays aren't Easily Removed
For the maximum effectiveness, Invisalign trays fit super-snug to your teeth. Therefore, you'll either need to keep a reasonable nail length, or you can use a special tool called an aligner remover to safely unseat the trays before eating, drinking beverages other than water or performing oral hygiene.
#4 – No More Lipstick or Colored Lip Balm
During the treatment process, wearing lipstick or colored lip balm will have to be put on hold. That's because they sometimes stick to the trays. As a temporary alternative, you can use a clear balm to moisturize your lips.
While these lifestyle changes may represent some immediate inconveniences, the beautifully-functional smile you'll have at the end of the procedure will make it all worth your while. So to learn more about the Invisalign process, contact your cosmetic dentist in Los Angeles to schedule a consultation today!
About the Author
Dr. Les Latner is a graduate of the Washington University in St. Louis School of Dental Medicine. He has since gone on to achieve accreditation in the American Academy of Cosmetic Dentistry, and he serves on the Board of Directors of the American Academy of Cosmetic Dentistry. Dr. Latner uses his years of experience and vast knowledge to straighten his patients' teeth with Invisalign at Westside Dental Associates, and he can be reached for more information through his website.