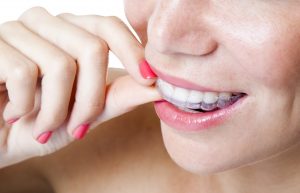 Just because you're not a teenager anymore doesn't mean you can't get braces to straighten your teeth. You may, however, want to consider an orthodontic treatment method that is less conspicuous that traditional metal brackets and wires. After all, appearance seems to count more once you're in the workforce. Read on to learn about Invisalign Clear Braces and Six Month Smiles, both of which are designed to straighten teeth discreetly.
What is Invisalign?
Invisalign clear braces are made of clear PBA-free plastic. They are designed to methodically put pressure on your teeth—different teeth at different times—in order to move them into their proper alignment. The aligners look a lot like mouth trays used for teeth whitening, but they fit more snugly. Invisalign clear braces are arranged in sets that are dispensed to you from your dentist's office. All you have to do is wear each set for about two weeks, throw them away and move on to the next set.
What is Six Month Smiles?
The mechanics behind straightening your teeth with Six Month Smiles are no different than those used with traditional braces. However, this orthodontic system uses clear brackets and tooth-colored wires to ensure that your braces are almost invisible.
Six Month Smiles are intended to correct cosmetic problems, such as crooked teeth or gaps between teeth. Therefore, the braces are only applied to teeth that show when you smile and might not be appropriate for more serious orthodontic problems or complex cases.
Which Method is Best for Me?
If having clear braces is important, then your dentist will be able to advise you on the system that is best for your particular orthodontic needs. Invisalign is able to treat most of the problems that traditional braces address, including crossbite, overbite and underbite. But if you only need to touch up the alignment of your smile teeth, then Six Month Smiles could do the trick.
Get Faster Results with PROPEL
PROPEL is a dental technology that helps to straighten teeth faster. Whether you are wearing Invisalign or Six Month Smiles, part of the orthodontic process involves bone remodeling, which allows your teeth to remain in proper alignment. PROPEL increases the rate of alveolar bone remodeling so you can enjoy fast orthodontic treatment and a more predictable outcome.
Are you interested in finding out if Invisalign or Six Month Smiles might be the answer to straightening your adult smile? Then, don't wait. Call your dentist to schedule a consultation, and you could soon be looking at a more beautiful smile in the mirror!
ABOUT THE AUTHOR
Dr. Les Latner earned his dental degree from Washington University in St. Louis. He served as the team dentist for the Bruins for many years before opening his private practice here in LA. He is certified to straighten smiles with Invisalign and Six Month Smiles. You can reach his office online or by calling (310) 907-7987.