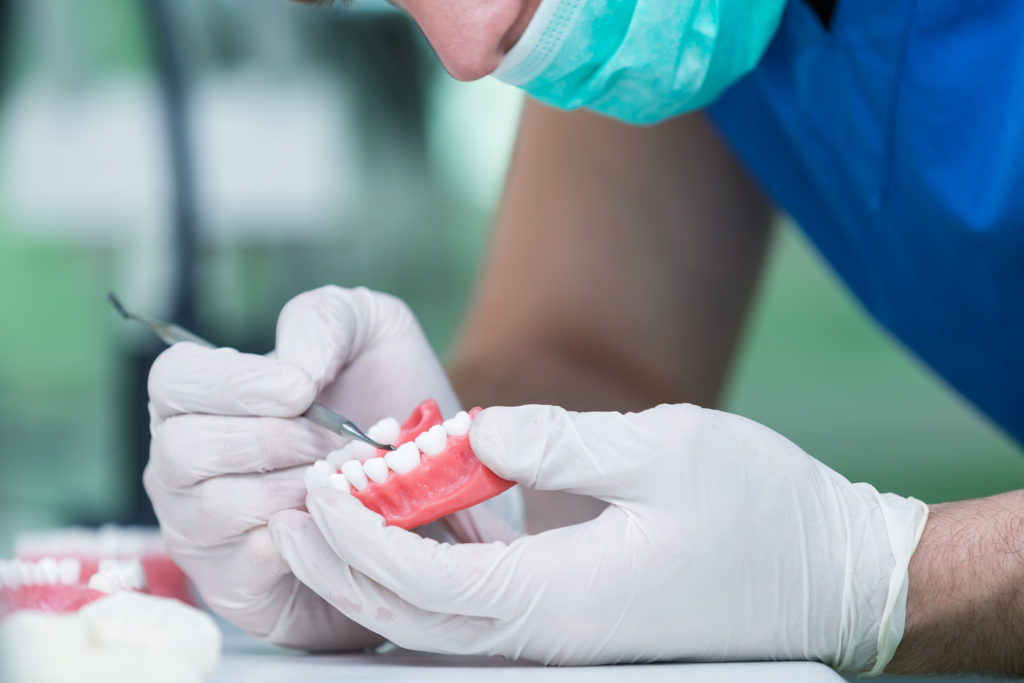 According to the CDC, the National Health and Nutrition Examination Survey found that 25% of adults over the age of 60 have lost all their teeth. Whether it was due to gum disease or decay, severe tooth loss results in difficulty chewing, strained speech, and an imperfect smile.
Fortunately, partial or full dentures have restored the teeth of roughly 41 million Americans. While they are more durable and natural than decades prior, caring for them properly is crucial to making them last. Read on for four steps to cleaning your dentures in Los Angeles.
Brush Your Dentures Daily
Like natural teeth, dentures require daily brushing to ensure that food and plaque are removed properly. However, despite their durability, they can become damaged by standard oral care tools like toothpaste and hard-bristle toothbrushes. To prevent microscopic scratches from occurring, gently brush the entire surface with water and a soft-bristle brush designed specifically for dentures. Make sure to be especially careful when brushing around the attachments and thoroughly rinse them after every cleaning.
Remove Leftover Adhesive
Many patients find that using an American Dental Association approved adhesive helps keep their dentures in place throughout the day. While the adhesive will likely dissolve by the time you get to your cleaning routine, some remnants may remain. If that's the case, run your brush along the grooves that fit against your gums so that any excess adhesive is removed.
Use a Denture Cleaner
To maintain the integrity of the structure, it is important to use a denture cleaner that will extend the life of the denture while cleaning away germs and bacteria. If you run out of denture cleaner, then hand soap or mild dishwashing liquid can be used until you get it replaced. Other household cleaners, like bleach and toothpaste, are too harsh and can damage your denture entirely. To be safe, make sure to check in with your dentist before using any at-home cleaners.
Soak When You're Not Wearing Them
Any dentist will tell you that dentures need to be kept moist at all times so they don't lose their shape. While some patients opt for dropping them in a glass of water while they sleep, take your cleaning routine to the next level by soaking them in a denture-friendly solution while you doze. This can help clean in those hard to reach places, like the intricate attachments.
If you are one of the 41 million Americans with dentures, then you know that taking proper care of them is important for maintaining your prosthetic teeth. Next time you're cleaning them, make sure to use these four steps for a fresh, spotless smile.
About Westside Dental Associates
At Westside Dental Associates, world-class service isn't just a philosophy, it is something each member of the team lives out every day. Between Dr. Latner's award-winning dental care and his team's dedication to excellence, Westside Dental Associates can help you with all your general, cosmetic, and restorative dentist needs in Los Angeles. To find out if dentures are the right option for you, visit their website or give them a call at 310-477-1081.