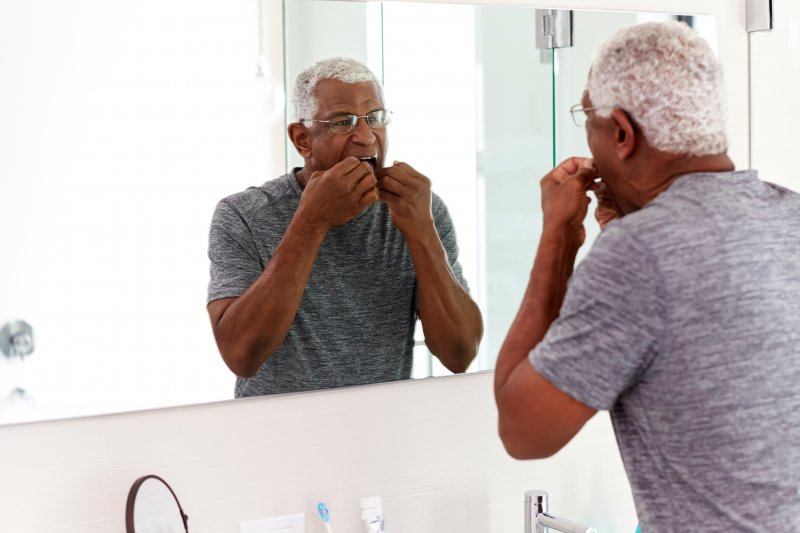 Dental implants are famous for their incredible longevity and their ease of maintenance. They're the tooth replacement option that feels most like a natural tooth, and taking care of one isn't all that different from how you'd maintain the rest of your teeth. However, there is one notable exception: the way you floss will likely have to change. If you want to know how to floss a dental implant, and why you'll have to make changes, here's a guide that might help.
What Makes Dental Implants Sensitive to Flossing?
Your natural teeth are attached to your gums by surrounding ligaments. It's technically possible to break the seal when you floss, but these ligaments are packed with nerve tissue, which means you're likely to experience some pain before you can apply enough pressure to do that.
Dental implants, on the other hand, are surrounded by what's called the peri-implant seal. This seal prevents bacteria from entering under the gum layer and from penetrating deep into the bone tissue. However, unlike your natural ligaments, this barrier doesn't contain any nerves. If you floss too far under the gum ridge, you can potentially break it without realizing it, which puts you at a higher risk for infection.
How Do I Floss Around My Dental Implant?
If you like getting really clean, you may be used to flossing deep under the gum ridge, stopping just short of where it starts to hurt. With dental implants, you'll no longer be able to use pain as a warning sign that you've gone too far. As a rule, you should never floss below the gum ridge around your dental implant. That puts you at unnecessary risk of breaking the peri-implant seal. Fortunately, you should have no problem removing built-up plaque without pushing the floss deep into your gums.
If you have arthritis, or you just don't feel very comfortable with flossing freehand around a sensitive area, you can ask your dentist to recommend you some tools that might make it easier. Floss threaders, interdental brushes, and oral irrigators can all be helpful in this regard.
Once you're used to it, taking care of your dental implant won't be very difficult. With a little bit of love and care, you can expect them to last for decades to come.
About the Author
Dr. Les Latner opened Westside Dental Associates in 1985, and in the years since he's developed a reputation as one of the finest dentists in Los Angeles. He takes enormous pride in his work, and he loves the challenge of crafting restorations that perfectly fit his patient's smiles. Dr. Latner received his Doctor of Dental Surgery from the Washington University School of Dental Medicine in St. Louis. He's one of less than ten dentists to have received accreditation both from the American Academy of Cosmetic Dentistry and the Academy of General Dentistry. If you have any questions about taking care of your dental implants, he can be reached at his website or by phone at (310) 765-7441.