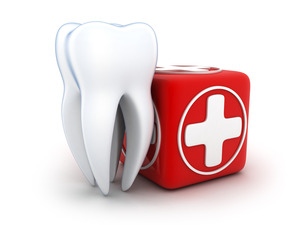 Whenever you're suffering from a medical emergency, your instinct is likely to call an emergency room. But if you have an emergency that involves your teeth or gums, the ER may not be the best option for getting the care you need; generally speaking, when it comes to urgent oral health problems, it's best to call your dentist instead. Here's what you need to know to make sure your smile gets the care it needs when it counts the most.
Why Shouldn't You Call the ER for a Dental Emergency?
The fact is that most emergency rooms aren't equipped to handle damaged teeth and other dental emergencies. Most doctors at the ER don't have dental training, and they typically can't do much to address the underlying cause of oral health problems.
The only time you should call the ER for a dental emergency is if there's a life-threatening complication such as a fractured jaw, bleeding that doesn't stop even after applying pressure to your mouth, and swelling that makes it difficult to breathe.
Why Should You Call Your Dentist for Emergency Dental Care?
Compared to the doctors at the ER, your dentist is in a much better position to deal with toothaches, fractured teeth, and other urgent dental problems. By visiting your dentist first, you'll be much more likely to get the care you need promptly.
Many dentists offer same-day appointments in emergency situations. As such, it's a good idea to have your dentist's number on your phone so that you can call them immediately if there's an issue with your teeth or gums.
How Do Dentists Treat Dental Emergencies?
When you first call, your dentist (or one of their team members) will ask about your symptoms and give you instructions for managing your emergency at home. This helps ensure that you can keep your smile safe until you can get to the dental office.
During your emergency appointment, your dentist will focus on putting a stop to any immediate, serious pain. They'll also perform an examination of your mouth, which might involve an X-ray depending on the nature of your emergency. Once they know what the underlying issue is, they'll work with you to put together a treatment plan for stopping your discomfort and restoring your oral health.
It's important to act fast as soon as you realize that you're experiencing a dental emergency, as delaying care can make the situation worse. Don't lose any time reaching out to your dentist when your smile is at risk.
About the Author
Dr. Les Latner is a proud graduate of the Washington University School of Dental Medicine in St. Louis. For over 30 years, he has been bringing families high-quality, personalized dental care. At Westside Dental Associates in Los Angeles, he makes a point of scheduling same-day appointments for emergencies so that his patients can find relief quickly. To schedule a consultation with Dr. Latner, visit his website or call (310) 765-7441.