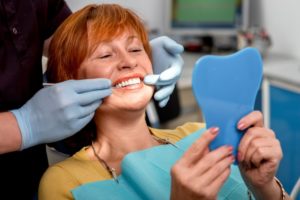 If you are considering completing your smile with dental implants, you are probably aware of the various benefits they offer. Considered the top choice for restoring missing teeth, they give incomparable stability and longevity. Since they replace the tooth from root to crown, they not only return the functions of having a complete set of pearly whites but also look completely natural! However, you may still wonder if they are susceptible to tooth decay. Here's what to know about dental implants and cavities.
Can Dental Implants Develop Cavities?
There are three parts of a dental implant:
Titanium post: Biocompatible steel posts are inserted into the jaw, acting as the tooth root. Over time, they begin to integrate seamlessly with the jawbone in a process called osseointegration.
Abutment: Sometimes known as the "connector", the abutment is used to screw the crown into the titanium post.
Crown: This is the visible part of the restoration. It is a lifelike tooth, usually made from dental-grade porcelain, that is placed on top of the implant.
As you can see, there is no part of the natural tooth left, not even the root. For this reason, dental implants cannot get cavities. Your restored smile with dental implants is safe from getting any decay.
Helpful Tips to Protect Dental Implants
While your implants are immune to developing cavities, that does not mean they cannot be affected by other oral health issues. Although there is a 95% success rate with these restorations, one of the main things that can cause implant failure is gum disease. If the infection goes untreated, it can eventually attack the jawbone that the dental implants are attached to, causing peri-implantitis to develop. If the damage is bad enough, you could potentially lose your restoration.
Therefore, it's essential you take care of your dental implants. To keep them in top condition and avoid implant failure, keep these tips in mind:
Maintain a consistent oral health routine: By brushing twice a day and flossing daily, you will not only keep your gums healthy but any remaining natural teeth. This will help prevent inflammation of the gums and keep bad bacteria at bay.
Eat nutrient-dense foods: To keep your remaining teeth healthy, as well as the soft tissues of your mouth, opt for smile-friendly food choices, such as fresh fruits and veggies, nuts, dairy, fish, and lean meats.
Visit your dentist: It's essential to see your dentist every six months for regular checkups and cleanings. They can ensure your implants are healthy, as well as your gums and remaining teeth. They can provide any necessary treatments before any oral health issue becomes more serious.
About the Author
Dr. Les Latner and his team at Westside Dental Associates are eager to help you achieve a whole, healthy, and beautiful smile! He is one of the less than 10 dentists who've achieved both accreditation in the American Academy of General Dentistry and the American Academy of Cosmetic Dentistry. With over 30 years of experience, he offers a wide range of services, including restorative care like dental implants. To schedule a consultation, contact him through his website or call (310) 907-7987.