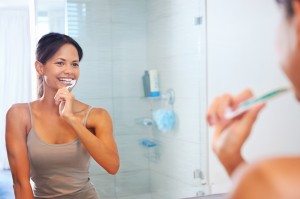 There are many great oral care products out there, but some are more effective than others. In today's post, we want to offer some advice on choosing what's right for you.
Toothpaste
There are toothpastes for seemingly everything–cavity protection, gum disease prevention, sensitivity, whitening, and more. In every case, there are going to be some products that are better than others, but if you want one that can do it all, consider Crest Pro-Health. This particular toothpaste whitens, prevents cavities and gingivitis, fights bad breath, and helps with sensitivity.
Floss
The right kind of floss depends on your particular preferences, and on your own teeth. In places where contact between teeth is normal or loose, woven floss is very effective. In places where contact is tighter, though, you'll want waxed floss that can easily glide through narrow passages.
Mouthwash
As with the many toothpastes and flosses available, the best mouthwash for you depends somewhat on your needs. Crest Pro-Health again provides patients with great all-around care, while Scope and Listerine are both known for fighting gingivitis and giving you fresh breath.
Do you have questions about which oral care products are right for you? Dr. Latner would be happy to talk to you about your needs and recommend solutions that can help you. Our Los Angeles team can also talk to about proper brushing and floss technique so you can be sure that you're giving your smile the care it deserves.
Call us today to schedule an appointment. We serve patients from Brentwood, Santa Monica, Venice, Beverly Hills, Marina del Rey, Rancho Park, Mar Vista, West LA, and beyond.