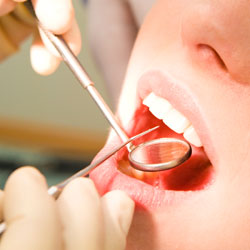 In our last post, we talked about air abrasion, a unique tool that lets Dr. Les Latner treat decay without needles or a drill. Today, we want to focus on another innovative tool that's helping us provide patients with forward-thinking care—DIAGNOdent.
As a preventive tool, DIAGNOdent lets Dr. Latner diagnose decay early, before a serious cavity has had a chance to form. It does this using a laser diode to look for weaknesses in the chewing surfaces of teeth.
An exam with DIAGNOdent begins with Dr. Latner taking a reading of healthy enamel, which the rest of your smile will be measured against. If we come across any amount of decay during your exam, this useful tool will make a sound, alerting us to an area that needs our attention.
Why is this beneficial for your oral health? Because treating any oral health issue early on will prevent the need for more invasive care later on.
We recommend that our patients visit us twice a year for regular checkups, including exams with DIAGNOdent. With this kind of regular care, Dr. Latner and his Los Angeles dental team can help you stay a step ahead of one of the most common oral health problems any patient can face.
To experience a checkup with DIAGNOdent, call Dr. Latner's Los Angeles dental office today for an appointment. We serve patients from Santa Monica, Beverly Hills, West LA, Mar Vista, and beyond.