Porcelain Veneers – Los Angeles, CA
Invest in an Attractive Smile
What are Porcelain Veneers?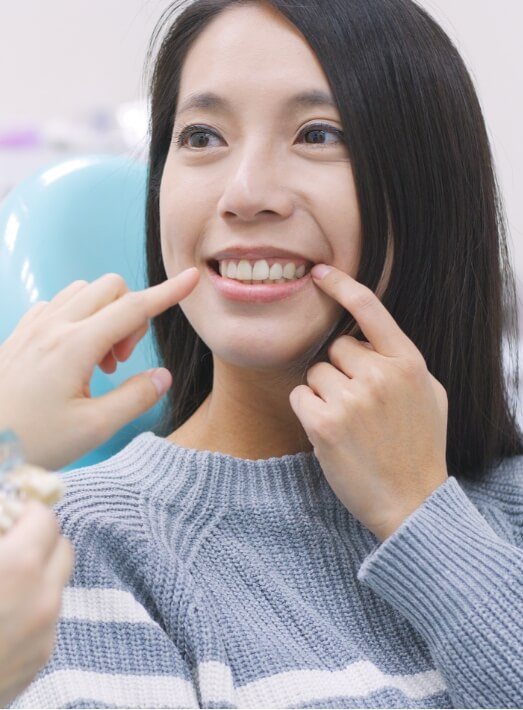 Porcelain veneers are custom-made thin shells bonded to the front surfaces of your teeth. Since they are made from porcelain, they closely look like your enamel to provide natural-looking results. In addition, it allows them to be thinner than traditional veneers, so less of your tooth's enamel is removed during the bonding process. This not only leaves more of its structure intact but also allows the procedure to be minimally invasive.
In the past, it required a couple of different appointments to complete the process. Not anymore. Dr. Les Latner embraces the latest technology, so you can get the smile of your dreams in just one day.
After your teeth are cleaned and prepared by removing a small amount of enamel, digital impressions are taken. The images are sent to CAD/CAM software, where your veneers will be designed to meet your exact specifications.
The information is then sent to our in-office milling machine, where your veneers will be made in-office. In about an hour, they will be ready to be bonded in place.
Benefits of Choosing Porcelain Veneers
Now, there are several cosmetic procedures that can help you achieve the smile of your dreams, but many patients prefer porcelain veneers because of the various benefits they offer, such as:
Minimally invasive because less enamel is removed.
Results look natural because porcelain mimics enamel.
Correct several issues using one procedure.
Results can last a decade or longer with the right aftercare.
Transform your smile in a single appointment.
What Issues Can Porcelain Veneers Fix?
Porcelain veneers are attached to the front surfaces of your teeth to instantly improve their color, size, shape, and proportion. Overall, this makes the treatment versatile to resolve several issues, such as:
Discoloration or stains.
Chips or cracks.
Shorter than average teeth.
Abnormally shaped teeth.
Small gaps between teeth.
Minor alignment concerns.
What Can I Expect During the Procedure?
Traditionally, the process to transform your smile would require 2 appointments, but our office features advanced technology to enhance your teeth in a single visit. After your teeth are cleaned, your cosmetic dentist in Los Angeles will remove a small amount of enamel to ensure your veneers sit flush.
Porcelain Veneers FAQs
If you have been unhappy with your teeth for a long time but still have questions about whether porcelain veneers are the right way to rejuvenate your smile, you have come to the right place. Our team at Westside Dental Associates has compiled some of the most common questions – and answers – about porcelain veneers in Los Angeles.
We encourage you to read through this FAQ section – and if you still have questions afterward, do not hesitate to give us a call!
Are Porcelain Veneers Reversible?
Porcelain veneers are considered an irreversible dental treatment. Why? The treatment requires a small layer of enamel to be filed away to make room in your mouth for the veneers. Because enamel does not grow back, the affected teeth will always need veneers or crowns going forward.
Is the Veneer Placement Procedure Painful?
Because teeth must be prepped before veneers can be applied on top of them, many patients worry that the veneer placement procedure will be painful. However, before your teeth are prepped, Dr. Latner will numb the area so you do not feel a thing! Moreover, for patients that tend to get anxious or stressed when visiting the dentist, nitrous oxide can be administered to ensure they feel at ease throughout the placement procedure.
How Long do Veneers Last?
Porcelain veneers have an average lifespan of 10 to 15 years. Taking proper care of your veneers can help ensure they remain a part of your smile for as long as possible. Here are 3 tips for maintaining your veneers:
Brush your teeth twice daily with a soft-bristled toothbrush and floss at least once a day.
Prevent damage from clenching or grinding your teeth by wearing a custom bite guard when you sleep.
Visit a cosmetic dentist in Los Angeles every six months for a dental checkup so he or she can inspect your veneers for any signs of potential failure.
Am I a Good Candidate?
Whether you want to brighten a few discolored teeth or transform your entire smile, porcelain veneers can dramatically improve the appearance of your teeth. Veneers may be right for you if you want to address any of the following common dental imperfections:
Chipped or cracked teeth
Misshapen teeth
Stained or discolored teeth
Gapped teeth
For more serious alignment or bite problems, traditional orthodontic treatment may be recommended over porcelain veneers. To find out if porcelain veneers are right for you, schedule an initial consultation with Dr. Latner today!
Get a Flawless Smile Today!
If you're ready to get the smile of your dreams, it's time to see if porcelain veneers are right for you. You will first need to schedule a consultation with your cosmetic dentist in Los Angeles, Dr. Latner. He will ensure that your teeth are healthy and create a customized treatment plan to transform the appearance of your teeth.
To start your journey to your dream smile, take the first step and contact our office to schedule your consultation. We look forward to enhancing your confidence with a flawless smile.