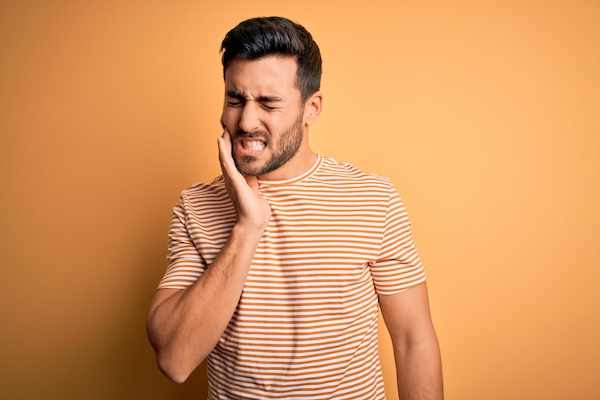 There are some things in life you just can't plan for – and dental emergencies are certainly on that list. One of the most common urgent oral situations your dentist sees is knocked out teeth. This incident can happen a number of ways, especially from traumatic accidents or playing sports without a mouthguard. 
If you or a loved one have experienced a knocked-out tooth in Los Angeles, knowing what to do next can mean the difference between saving the tooth or not. Keep reading to find out what to do next. Spoiler alert: in most cases, you should put it back in yourself, then call your emergency dentist!
Immediate Next Steps
Right after a tooth is knocked out, the most important thing is to stay calm. Take a deep breath and find the tooth, picking it up by the crown (or the part you chew with). Swishing the mouth out with water can help to remove any potential smaller broken pieces.
Once you have the tooth, rinse off any debris under plain water (no soap) – but be careful not to scrub the tooth or touch its root. Doing so could damage the cells that are vital for successful replacement.
Next, it's time to store the tooth. Try placing it back into the empty socket, gently pressing with your fingers to get it back in the proper position. If this is not possible, you will still need to keep the root moist – store the tooth in your cheek or in a cup of milk or contact solution. Do not put it in water.
Contact Your Emergency Dentist
Once the situation is under control and the tooth is stored, contact your emergency dentist. The chances of successful reattachment of the tooth greatly decrease after an hour has passed. Follow any immediate instructions they may have, then get to their office right away.
How to Prevent Dental Emergencies
While there's no way to guarantee you will never have a knocked out tooth or other dental emergency, there are steps you can take to protect yourself against these occurrences. Follow these tips to help keep your smile happy and healthy for years to come:
Brush your teeth for two minutes, twice daily to remove plaque and bacteria from your mouth
Floss between teeth daily to reach areas your toothbrush will miss
Wear a custom-fitted mouthguard if you play contact sports
Visit your dentist twice annually, or as often as recommended, to benefit from early intervention for any potential problems
Now that you've read this post, you'll be a little more prepared in case a knocked-out tooth happens to you or someone you love. But, in the meantime, you know the steps to take to prevent one from occurring in the first place!
Meet the Dentist
Dr. Les Latner is a trusted dentist serving patients of all ages. He attended the Washington University School of Dental Medicine in St. Louis and today is among fewer than 10 dentists who have accreditation with the American Academy of Cosmetic Dentistry and a mastership in the Academy of General Dentistry. Dr. Latner puts his expertise to work daily – including as the emergency dentist Los Angeles trusts. To learn more or to book an appointment, reach out by phone at (310) 765-7441.