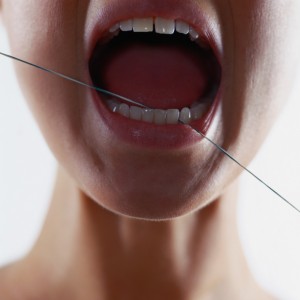 You've probably heard throughout your life that flossing is important, but do you understand why? In today's post, we'd like to look at how flossing can help and what can happen if you don't floss on a regular basis.
First, why should you floss?
Flossing is important because of how it can help your oral health. When food is allowed to build up around teeth, the amount of harmful bacteria in the mouth will go up as well. Those harmful bacteria increase one's vulnerability to decay and gum disease. If left untreated, they can lead to serious oral health problems, including advanced gum disease and tooth loss.
Serious oral health problems are most commonly treated with fillings, dental crowns, root canal therapy, and gum disease therapy. Failure to floss on a regular basis may lead to you needing one or more of these services to help you reclaim good oral health.
So, how can flossing help?
Flossing will help you support your oral health by getting leftover pieces of food away from teeth. As a result, one's chance of developing cavities or gum disease is significantly lower.
At Westside Dental Associates, we recommend that patients floss at least once a day to keep teeth at their cleanest. Floss is inexpensive and comes in a wide variety of types: waxed, unwaxed, and flavored. Patients should also brush at least twice a day, if not three times.
Do you have questions about flossing, or do you want to schedule an appointment? Call Dr. Latner's Los Angeles dental office. We offer care to patients from Los Angeles, Santa Monica, Beverly Hills, West LA, Mar Vista, and surrounding areas.