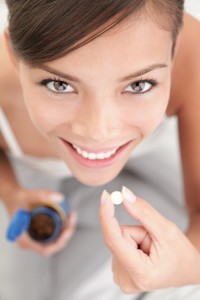 For some patients, going to the dentist takes courage. Sometimes that's because of one or more bad experiences in the past. Other times it's because of neck, back, or jaw pain. Whatever the cause, no dentist ever wants his or her patients to avoid care.
That's why many dentists offer a service called oral conscious sedation. The point of oral conscious sedation is to create a soothing sense of relaxation in patients without putting them fully to sleep. Being able to respond to questions during a procedure is important.
Oral conscious sedation isn't the only kind of sedation that can help patients find this balance, but it is one of the most popular. It works using a simple, prescription medication to create feelings of relaxation.
Many dentists will have you wait to take your pill until you've arrived at the office. Then, when the medication has taken effect and you're seated comfortably in your doctor's dental chair, your procedure will begin.
For patients who will be using oral conscious sedation, it's important to have someone with you at your appointment to drive you home. The effects of oral conscious sedation take time to wear off.
Regular dental visits are important for a wide variety of reasons, the most important being to support your health and well-being. If you have put off care because of anxiety or discomfort, a dentist who offers oral conscious sedation can help you move beyond those to get the help you need. Improved oral health is in your future!