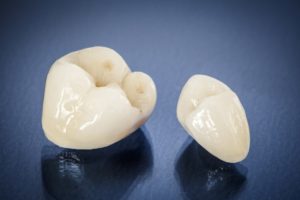 If you need a dental crown, you don't have to worry about needing a replacement often. The customized cap is meant to provide a long-lasting solution. However, many factors affect the lifespan of restorations. Here's how long you can expect your crown to last before needing a new one. 
What is a Dental Crown?
A crown is a cap that's placed over the entire surface of a tooth above the gum line. It can be used as a preventive treatment to protect a weakened tooth from breaking. However, crowns are most often used to repair damaged teeth or along with other procedures, like root canal therapy. Overall, crowns can improve the health, function, and appearance of a tooth to preserve your natural smile.
Factors Affecting the Life Expectancy of Crowns
On average, a crown lasts for about 10 years, but it's not unusual for them to last for much longer with the right care. Many things will affect the lifespan of your crown, like:
Materials
Restorations can be made from many materials, each with different life expectancies. The most common materials include:
Porcelain: 3-15 years
Zirconia: 1+ years
Metal: 5-10 years
CEREC: 5-15 years
Location
Back teeth experience more wear and tear naturally. Crowns placed on molars can have a slightly shorter lifespan than those on front teeth.
Oral Hygiene
Crowns can't get cavities, but the tooth underneath is still vulnerable to decay. A good oral hygiene routine will prevent decay. Brush your teeth twice daily for 2 minutes and floss every night. Use an antimicrobial mouthwash to kill any bacteria missed by your toothbrush and floss.
Diet
A diet limited in sugars and starches will prevent cavities. It's also best to avoid hard or chewy foods, which can damage your crown over time.
Oral Habits
Certain oral habits can cause your crown to fail, like chewing on pencils or using your teeth to loosen water bottle lids.
If you have a habit of grinding or clenching your teeth, ask your dentist for a nightguard. It will provide a cushion between the upper and lower teeth to observe the friction.
Dental Care
Besides caring for your smile at home, visit your dentist every 6 months for a cleaning and checkup. They'll remove any plaque or tartar to keep your teeth and gums healthy. They'll examine your mouth and check your crown at each routine appointment to detect anything concerning while it's a small issue.
You can get the most from your investment by giving your smile the attention it deserves. You'll have peace of mind knowing your crown will serve you for years.
About Dr. Les Latner
Dr. Latner earned his dental degree at the Washington University School of Dental Medicine and has regularly continued his education in many specialties, like pediatric dentistry, cosmetic dentistry, and restorative dentistry. He is a member of several professional organizations, including the American Dental Association. If you need a dental crown, contact us through our website or call (310) 907-7987.