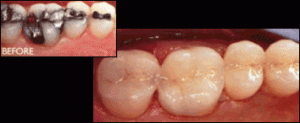 Earlier this month, we talked about our preference for white fillings, especially in connection with a tool like air abrasion. We cited their resiliency and appearance as key reasons for this; not only can the bond between a tooth and a white filling last for many years, white fillings support the natural structure of teeth in a way that metal fillings don't, and they look completely natural.
Here's what you can expect from treatment with white fillings.
First, Dr. Latner will remove the decay from your tooth, using air abrasion if possible. Then, when the tooth has been prepped, Dr. Latner will take the composite resin he'll be using and tint it to match the shade of your tooth. When the right color has been achieved, the resin will be put in place and hardened with a curing lamp. Afterwards, Dr. Latner will sculpt and polish your white filling until it looks perfect and fits your bite correctly.
In some cases, we may still need to rely on metal fillings, or on a more advanced service like crowns, inlays, or onlays, but when possible, we prefer to use white fillings.
Call Westside Dental Associates to restore one or more teeth with a white filling. We serve patients from Los Angeles, Santa Monica, Beverly Hills, West LA, Mar Visa, and surrounding communities.