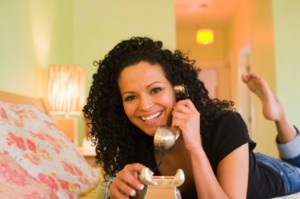 One thing that many people strive for is the smiles they see in the magazines or on television, and one thing all of those smiles have in common is the fact they are dazzling white. Having a beautiful white smile is definitely a lasting, positive first impression, and many people are willing to do whatever they have to in order to accomplish that. Unfortunately, our smiles are not resistant to stains, causing them to really affect the overall aesthetic of our smiles as time goes on. Luckily, Dr. Les Latner is able to brighten your smile using teeth whitening at his Los Angeles, CA dental office.
We offer two forms of teeth whitening. The first is in-office teeth whitening, which is able to completely revolutionize your smile in as little as an hour. When you come in for your appointment, Dr. Latner will apply the Zoom! Whitening gel onto your smile and activate it with a lamp. As you sit and wait, years of stains are effortlessly being lifted off of your smile! At the end of the appointment, your smile is up to ten shades brighter!
The second option is at-home teeth whitening, which is favorable to our patients who wish to have a gradual change in their smile. With this, Dr. Latner will make impressions of your smile in order to have your custom whitening trays made. Not only does this ensure amazing results, but it also allows you to have a cosmetic procedure completely tailors to you and your needs. We will also be able to supply you with the whitening gel that you use to fill the trays. All you do is follow the instructions, wear the trays for an allotted amount of time each day, and in about two weeks, your smile is drastically whiter! If you would like Dr. Latner's assistance brightening your smile with teeth whitening, schedule your appointment today!
Call us today to reserve your appointment for Dr. Latner. We offer general and preventative care to patients from Los Angeles, Brentwood, Santa Monica, Venice, Beverly Hills, Marina del Rey, Rancho Park, Mar Vista, West LA, and the surrounding communities.