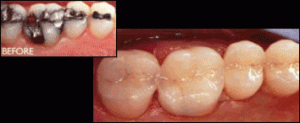 Most patients have trouble with tooth decay at some point. That's why fillings are a standard part of any dental office. But even with so many offices offering fillings, not every office offers tooth-colored fillings.
Tooth-colored fillings are a cosmetic alternative to traditional amalgam fillings. Instead of using a combination of metals, including mercury, to repair teeth and stop decay, tooth-colored fillings use strong composite resins to restore smiles.
What does that mean for you?
It means a healthier smile that also looks completely natural. That's because composite resins can be custom-shaded to match the color of your smile. As a result, no one but you and Dr. Latner will ever have to know that you've had fillings.
As an added benefit, you can look forward to your tooth-colored fillings last just as long as amalgam fillings would. What's more, tooth-colored fillings actually bond to teeth, supporting their natural structure instead of just acting as a barrier to decay. This keeps teeth stronger and helps prevent bacterial reinvasion.
Would you like to learn more about how tooth-colored fillings can help you restore your smile? Call Westside Dental Associates today with your questions or to schedule an appointment. Dr. Latner serves patients from Los Angeles, West Los Angeles, Westwood, Santa Monica, Rancho Park, Culver City, Beverly Hills, Venice, Marina del Rey, and surrounding areas.