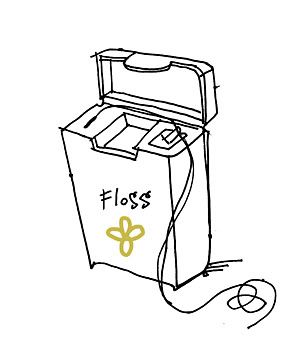 Do you understand the importance of flossing? Judging by the patients who come into my office, I'd estimate that about 90% of you aren't flossing. I'm guessing that's because you really don't understand why you need to. After all, you can whiten your teeth, either here in our Los Angeles dental office, or take home whitening kits. You brush, at least at night, right? So why not just add a round of flossing and save your teeth (not to mention save money–see below).
Here are the reasons why you should be flossing:
Flossing makes your breath sweeter!
Flossing gets the food out of your teeth: duh!
Flossing prevents cavities: the floss gets in the areas where the brush doesn't; leftover food builds up bacteria and that causes cavities.
Flossing prevents gingivitis (gum disease): keeps your gums healthy. Flossing keeps irritating bacteria away from your gums. Bacteria are like sandpaper to the gums. The irritation sets up a chain reaction that results in tenderness and bleeding which is a sign that your gums are suffering!
Flossing will save your teeth! The biggest reason for tooth loss? Gum Disease. You can prevent tooth loss by flossing.
How much does a floss container cost? $3. I'll give 'em to you free if you come in for your 6-month checkups!
Here are the prices for dental work if you don't floss:
Regular surface filling runs around $300.
A root canal runs around $750-900
A crown runs around $1200
If you lose your tooth and need a dental implant, that runs around $3500.
As you can plainly see, it's much less expensive to floss!
Floss comes in many varieties: waxed and unwaxed (which I prefer, it's more efficient at cleaning but if you have really tight contacts between teeth, try Glide floss).  You can also enjoy flavored floss. Whatever makes you floss, do it.
How often should you floss?
Minimum: At least once a day.
Brush 3 times a day and floss once.
Like I always say: Beverly Hills quality at West LA prices…and free parking!