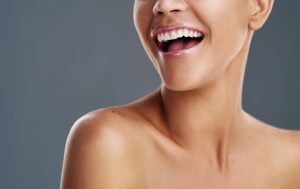 Have you ever wondered how it would be to go through life without a cosmetic flaw? To look like one of those people that belong on the cover of a glamorous magazine? Little do you know, you are one of those people! The flaws in your smile are never too far gone or too extensive to be fixed by your cosmetic dentist, Dr. Latner. Westside Dental Associates take pride in enhancing our patients smiles in a personalized, comfortable cosmetic procedure: porcelain veneers. We have helped patients enhance their natural smiles for the past 30 years and strive to keep helping our community each day. View our smile gallery to see photos of real patients and how we have changed their smiles—and lives—with cosmetic dentistry.
What are porcelain veneers?
Porcelain veneers are slim, lightweight shells of ceramic that cover the front surfaces of your teeth for a complete smile transformation. After examining your teeth, Dr. Latner will consider the different aspects of your face and mouth to formulate the appropriate size and shape of your veneers. This whole process makes sure your veneers match your face and jaw structure, creating the perfect smile that you've been dreaming of! One of the best parts of getting porcelain veneers is that they are slightly translucent and faithfully mimic your natural tooth's color. Big bonus: they're are stain-resistant!
Which patients are perfect for porcelain veneers?
Have you ever looked at the smile of a celebrity and yearned for a smile that matched theirs? Do the blemishes in your smile make you insecure? If you have any doubts about the appearance or even the function of your teeth, porcelain veneers from Westside Dental Association are perfect for you! We create one-of-a-kind veneers that harmonize with the rest of your natural smile effortlessly. Porcelain veneers can mask multiple flaws at the same time including:
Dark teeth
Misalignments
Unusually shaped teeth
Shortened/Eroded teeth
Spacy teeth
Chips
Cracks
Damaged enamel
Each patient gets the one-on-one attention they need to design effective veneers. We openly work with you during the whole process to help you reach your smile goals. The best way to find out the best treatment for you to visit either of our dentists for an open-minded, judgement-free consultation.
How do I get started?
Our unbiased, honest consultations will have you feeling extremely confident about the dental services our office offers. When you visit our Los Angeles office for an appointment, our whole team wants you to feel welcome and relaxed, like you're spending time with a second family. We are open to discussing your goals and will make the best recommendations for you, whether that be porcelain veneers or another better-fitting treatment. Feel free to contact us with any questions or if you need directions finding your new cosmetic dentist.