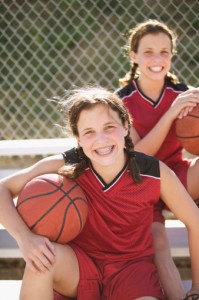 No matter how old your children are, protecting their teeth is a top priority. Injuries to teeth have the potential to affect your child for the rest of his or her life. The key to protecting their beautiful smiles is prevention. You should start bringing your child to regular dentist appointments as early as age two. As they grow and become more active in activities like soccer, football, karate and cheerleading, it becomes necessary to protect their teeth from sports injuries as well. If you're thinking about allowing your child or teen to participate in contact sports, contact Dr. Latner for an appointment today. Dr. Latner serves families in Los Angeles, CA Brentwood, Santa Monica, Venice, Beverly Hills, Marina del Rey, Rancho Park, Mar Vista, West LA, and the surrounding communities.
Pediatric Dentistry and Custom Mouthguards
The first step to ensure your child is protected while participating in any contact sport is to take them to the dentist to be fitted for a custom mouthguard. While almost all sports organizations require children to wear mouthguards, there is no strict quality standard for the mouthguards themselves. This means that your child may not be adequately protected from injury.
You have three choices in mouthguards. The cheapest option is the stock mouthguards sold in sporting goods stores. They are not customizable and rarely fit well. This lack of protection could cause your child serious injuries if they were to be hit near the jaw bone or back teeth. The next best option is the "boil and bite" mouthguards which are somewhat more customizable. However, they may still be unable to protect the back teeth, or stay in place. If your child must clench the mouthguard to keep it in place, their ability to speak or breathe correctly could be hindered. A custom mouthguard made specifically for use in sports and recreational activities is the single most effective option.
Pediatric to Adolescent Dentistry
As your child grows into a teenager, his dental needs will grow and change as well. While encouraging your teen's healthy dental habits — like brushing and flossing regularly — is important, you also need to make them aware of the unhealthy habits that will affect their oral health. For example, the sugar and acidic flavorings in soda can cause their tooth enamel to erode and can cause the development of cavities. Experimenting with tobacco products can, among other things, cause their teeth to turn yellow or brownish shades and can eventually lead to oral cancers. Developing eating disorders such as bulimia and anorexia can also cause permanent damage to the mouth, gums and throat. At this stage in their development, parents must be proactive in making sure that their teens develop good oral health habits.
Trusted Pediatric Dentistry in Los Angeles, CA
Dr. Latner can be a trusted resource for every stage of your child's healthy smile development. Bringing your child in for visits early and often will foster a positive attitude towards visiting the dentist that will keep their teeth healthy for the rest of their lives. Contact us today to schedule your child's next appointment. Dr. Latner serves children and adults throughout Los Angeles, CA, Brentwood, Santa Monica, Venice, Beverly Hills, Marina del Rey, Rancho Park, Mar Vista, West LA, and the surrounding communities.