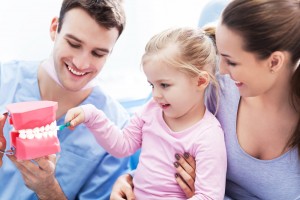 When you are searching for a dentist for your children in Los Angeles, CA, you want to be sure that the oral healthcare professional you choose is trustworthy, gentle, and highly skilled in the intricate dental science that is pediatric dentistry. At Westside Dental Associates in Los Angeles, CA, Dr. Les Latner and our team understand that your time is valuable, so we offer comprehensive pediatric dentistry right here in our office as part of our extensive menu of general, restorative, and cosmetic dental services.
The Importance of Children's Dentistry
Though it is true that your child will eventually lose all of the primary teeth he or she currently has, the fact remains that these teeth still require consistent care during these early, formative years. Regular visits to Dr. Latner's office, beginning by the age of about one or two, ensure that your child's oral health is in great shape with routine cleanings and checkups. We'll check to make sure that the jaw and teeth are developing as they should, and that any problems – including cavities – are detected early for more successful treatment.
Because we understand that visiting an unfamiliar place can be intimidating, we take extra steps to make sure our youngest patients feel welcome, comfortable, and safe in a fun, relaxed environment. Dr. Latner and our team will keep you, the parent, informed and up-to-date with all important information regarding your child's oral health and treatment. Before you know it, your son or daughter will find that they truly enjoy visiting the dentist for their biannual checkups!
Serving Your Entire Family's Dental Needs
Your child's smile is precious. Ensure that your little one's pearly whites stay beautiful and healthy with all-encompassing pediatric dentistry services from Westside Dental Associates. Dr. Latner happily welcomes patients from throughout the Los Angeles, CA area, including families from neighborhoods in Mar Vista, Venice, Brentwood, Santa Monica, Beverly Hills, Rancho Park, Playa Vista, West LA, Culver City, Marina del Rey, and more. Contact our office today; we can't wait to provide your son or daughter with their best dental experience yet!