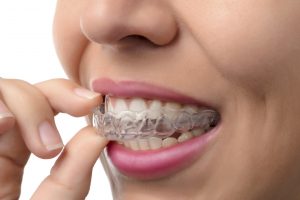 Now is the time to start thinking about what to buy each person on your gift list. Want to make your life a little easier and someone else's life better? Then give a gift that requires no shopping and is guaranteed to bring a beautiful smile to a loved one's face. Invisalign® is an orthodontic treatment system that uses clear plastic mouth trays in order to gently realign teeth. Dr. Les Latner has used Invisalign in West Los Angeles for many years to help his patients enjoy the benefits of straight teeth. So whether the gift is for yourself or someone else, give Invisalign.
Who's Right for Invisalign?
As more and more adults have opted to have their teeth straightened, Invisalign became the ideal choice. Because the system uses clear braces rather than metal brackets and wires to move teeth, Invisalign was perfect for adults with established professional careers and social lives. Now, however, Invisalign also offers a special system for teenagers, too, so clear braces are right for any age.
What Can Invisalign Correct?
Not only is Invisalign right for any age, but it's also right for almost any orthodontic need. Just like traditional metal braces, Invisalign can fix:
Crooked or rotated teeth
An overbite, crossbite, or underbite
Teeth that have wide gaps between them
How Do I Get Invisalign?
Dr. Latner is a Certified Invisalign Provider and was one of the first general dentists in Los Angeles to offer this unique orthodontic treatment system. To create your customized Invisalign clear braces, Dr. Latner uses information gathered from photos, impressions and x-rays of your teeth. From these, a 3D computer representation of your smile is developed that guides your entire treatment plan from start to finish. Patients can view this image in order to see what their smiles will look like at the end of their treatment.
What's Your Part in Invisalign?
Dr. Latner may create your orthodontic treatment plan, but it's up to you to put the plan into action. Don't worry—that's easy. All you have to do is wear each pair of aligners for two weeks and then move on to the next pair in the series. Be sure to wear your clear braces for at least 22 hours every day in order to complete your treatment on time.
Because Invisalign aligners are removable, you'll be able to enjoy your regular diet and brush and floss your teeth as usual, too. At the end of treatment, the gift of a straight and beautiful smile will be yours for a lifetime.
For Invisalign in West Los Angeles, Call Our Office Today
To give the gift of a straight smile to yourself or someone else, contact the office of Dr. Les Latner and learn more about Invisalign.