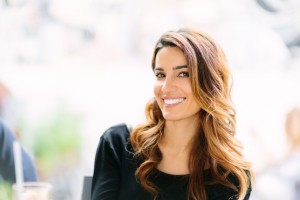 If you're dealing with crooked, crowded, gapped or otherwise misaligned teeth, we know one thing for sure: you'd like to know more about your orthodontic options. That's why you're reading this blog, for one! Dr. Les Latner has good news for you — he offers a wonderful solution for adults and image-conscious teens looking to improve the alignment of their teeth. It's Invisalign, or clear braces in Los Angeles. Keep reading to learn more about this wonderful orthodontic option.
Invisalign Straightens Los Angeles's Teeth Discreetly
Forget those bulky, noticeable metal brackets and wires. An FDA-approved orthodontic treatment, Invisalign uses clear, plastic trays to gradually shift teeth into their desired position. In all, it's a series of 18 to 30 aligners that you wear over the period of a year, on average.
As one of the first general dentists in Los Angeles to offer the treatment, Dr. Latner has already helped so many of your peers and neighbors achieve their smile dreams with Invisalign.
What Invisalign Corrects
Invisalign works to correct a number of common dental problems, including:
Overbite, when the teeth reach too far over the bottom teeth

Underbite, when the bottom teeth cover the top teeth

Crossbite, when the top and bottom teeth don't meet correctly

Crowded or gapped teeth
Advantages of Invisalign Compared to Traditional Braces
When considered beside conventional metal braces, the advantages of Invisalign are many — especially for busy adults. Some of the most common benefits we've heard our patients enjoy include the following.
No food restrictions or difficulty brushing and flossing. That's because the Invisalign trays are removable, so as long as you're wearing them the recommended 20 to 22 hours each day, you can continue enjoying your life as usual.

Freedom from worry. Traditional braces can cause the wearer a considerable amount of anxiety — the fear that a bit of lunch is leftover in your braces, or that a peer is focusing more on your mouth than what you're saying. With Invisalign, we're pretty sure that all anyone will ever notice is your continually improving smile.

Less time spent at the dentist's office. With Invisalign, you receive the entire system at once, with precise instructions on when to move up through the treatment (approximately every two weeks). That means less time spent in the dental chair, and more time spent living your life.

Invisalign is far more comfortable than metal braces, too. Patients never have to worry about a popped off wire or loose bracket rubbing a blister into their tender cheeks or gums.
Interested in Invisalign? Contact Dr. Latner's Office Today
Dr. Latner and the whole team at Westside Dental Associates can't wait to help you achieve your most beautiful smile with Invisalign. Book your appointment online today! Good news — we're accepting new patients, too.