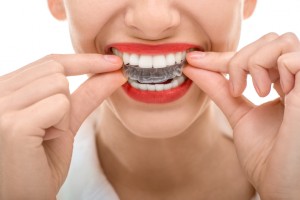 Westside Dental Associates is the go-to dentist for Invisalign in Los Angeles. If you're looking for that movie star smile without the unsightly appearance of traditional braces, Invisalign is the orthodontic treatment option for you. The virtually invisible treatment will move your teeth into their correct alignment in less time than traditional braces. Plus, you'll have added confidence knowing you are discreetly correcting your teeth for a straighter smile.

What are Invisalign aligners?
Invisalign aligners are clear trays worn over the teeth. Made from durable and transparent thermoplastic material, which is similar to whitening trays, you'll move your teeth into correct alignment. Each tray is custom-made to realign your teeth in sequence with slight adjustments to each tray as the treatment progresses.
How long is Invisalign treatment?
The length of treatment varies depending on your exact alignment needs, however, the average treatment span is roughly 12 months for adults. Your dentist may recommend longer or shorter periods of time based on your needs and the progression of results.
How often do I wear the aligner trays?
Invisalign is a removable orthodontic treatment that requires you to wear the trays for 20-22 hours per day. The trays should only be removed while eating or when brushing and flossing your teeth.
How frequent are dental visits during the treatment process?
Generally, you will see your dentist less often than if you were to choose traditional braces because adjustment visits are not needed. Instead, you'll just replace the tray with the next tray in the treatment series, which is about every 2 weeks.
Is Invisalign treatment be painful?
Invisalign offers less discomfort than traditional braces because there is less tugging and pulling of the teeth. There will be slight discomfort while the teeth move into position, but you won't have to worry about abrasions or discomfort from wires or brackets.
How many people have chosen to use Invisalign?
Invisalign is one of the top choices for orthodontic treatment, with roughly 3 million people using the treatment around the world.
Will Invisalign fix the shifting of my teeth after having braces?
Yes! Many people use Invisalign to correct minor alignment issues after having braces. Adults especially experience shifting after braces, making Invisalign the discreet option to regain a perfect smile.
Will Invisalign work with existing dental work, like veneers and bridges?
In some cases, yes, Invisalign can work with existing bridge work, but each case must be evaluated individually. Since the trays move each tooth separately, it can be difficult if there is previous dental work. But, your dentist may be able to map out a treatment plan around the dental work.
What are the costs and payment terms?
The cost of Invisalign varies depending on the dentist, location, and exact services needed. Please contact Dr. Les Latner via email or phone to schedule a free consultation
If you're ready to transform your smile in less time using a nearly invisible option, call Dr. Latner today for your consultation. Smile with confidence using Invisalign.