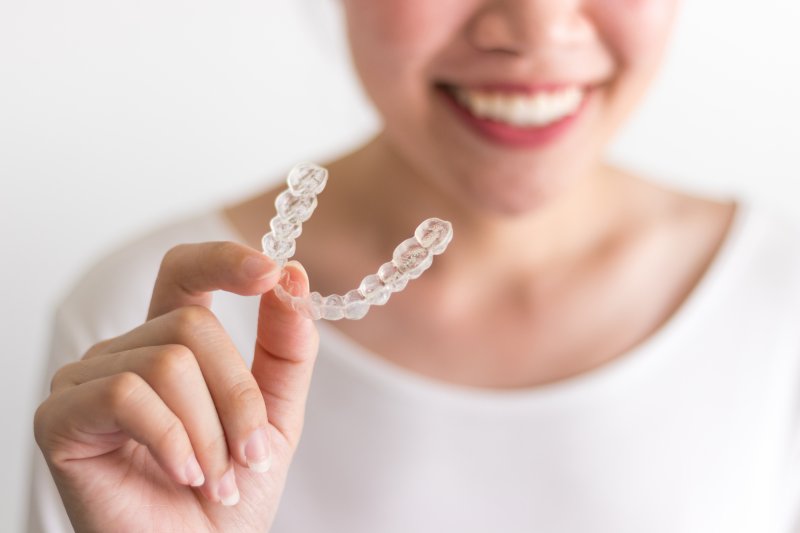 Ahh…nothing brings back memories from junior high like braces. Those clunky pieces of metal led to the joy of straighter teeth. Yet, as time has passed, you noticed your teeth have returned to being slightly crooked. It's natural for them to want to move back to where they were because teeth shifting is a natural part of the aging process. You'd like to have straight teeth again, but the last thing you want to do is to have braces again as an adult. So, is Invisalign an option for you? Your cosmetic dentist in Los Angeles has the answers for you!
What is Invisalign?
Invisalign is an orthodontic treatment that uses custom-made clear aligners in order to correct gaps, fix crowding, and straighten your smile. The aligners are customized to fit your teeth and are switched out approximately every two weeks. At each stage of the treatment, slight pressure is strategically placed at different points to slowly move your teeth into their new, permanent location. These aligners must be worn at least 20 to 22 hours each day to achieve the best result. The entire process normally takes between 12 to 18 months, though it's usually shorter if it's just making minor adjustments.
Can I Get Invisalign After Traditional Braces?
Absolutely! In fact, many people have chosen to get Invisalign after having traditional braces. Whether your teeth have shifted as a result of not wearing your retainer after a few years or a change due to the natural aging process, it isn't too late to work towards your dream smile. Invisalign is great at making mild to moderate corrections.
A visit to your dentist for a consultation will help determine if you make a good candidate. Invisalign can fix many orthodontic issues, but severe misalignment often requires metal braces.
What Are the Advantages of Invisalign?
As mentioned previously, Invisalign has become a popular choice for those who desire a change in their smile. Compared to traditional braces, the advantages are:
No Eating Restrictions: With traditional metal braces, you are required to cut out certain food items. Because Invisalign is removable, this isn't a concern as long as you thoroughly clean your teeth before putting your aligners back in.
Easier to Maintain: Metal braces can make it difficult to keep your teeth clean. With Invisalign, you don't need to work around brackets and wires to brush and floss…you just simply take your trays out.
More Comfortable: Metal braces tend to irritate the gums, cheeks, and lips. Invisalign is made from medical grade elastic and is gentler to the mouth.
Better Appearance: One reason many older teens and adults shy away from braces is because of how they look. Invisalign, true to its name, is practically invisible. It's unlikely that anyone will even notice your aligners.
Invisalign is an option for many who are desiring a return to their best possible smile, even for those who have worn braces. From the bulky metal of yesteryear to the invisible, sleek aesthetic of today, a straight smile is headed your way!
About the Author
Dr. Les Latner serves Los Angeles and the surrounding communities by providing healthy, beautiful smiles. Dr. Latner graduated from the Washington University School of Dental Medicine and completed a two-year residency in pediatric dentistry at Children's Hospital Los Angeles. As one of the few dentists who has achieved both accreditation in the American Academy of Cosmetic Dentistry and a mastership in the Academy of General Dentistry, Dr. Latner can assist you with all your Invisalign needs. Contact Westside Dental Associates at their website or call (310) 907-7987 to make an appointment.