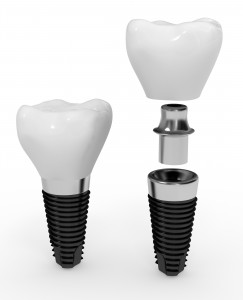 In our last post, we mentioned that dental implants may one day be replaced by bioengineered teeth grown from stem cells. Until that day, however, dental implants will be one of the best ways to replace missing teeth and enjoy improved functionality.
That's because dental implants use a prosthetic root to anchor teeth to the jaw. What's more, your prosthetic root is made from titanium, a biocompatible metal. Over time, your implant(s) will bond with the bone in your jaw to create a stable foundation.
Why is all this important?
Because missing roots lead to bone loss, which can eventually lead to the loss of other teeth. Dental implants try to prevent all that by replacing the missing root and preserving the jaw.
Not every patient is a candidate for dental implants though. To find out about your restorative dentistry options, call Westside Dental Associates to reserve an appointment with Dr. Latner. We're happy to provide care to patients of all ages from all around the Los Angeles area.